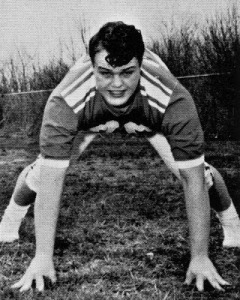 Douglas Dickey never got to be a veteran. He barely got to be a high school graduate. Less than two years after graduation, Doug's life ended in Vietnam. He was twenty years old.
A Congressional Medal of Honor was awarded, as so many are, posthumously. There was no question about it being deserved. Doug's actions that day were exactly what we think of when we think of unselfish bravery. They might even be what we think of when we think of the Medal of Honor. To save others, he threw himself on top of a live grenade seconds before it detonated. While we might think of that as the quintessential Medal of Honor worthy scenario, I don't believe it's typical. I haven't read every Medal of Honor citation and I have no supporting statistics but my impression is that the majority of these medals are awarded to men who do a considerable amount of damage to the other side, usually in defense of the defenseless, while disregarding all personal danger. Defending the defenseless is exactly what Doug Dickey was doing when he died and the fact that he destroyed no enemy gun positions and killed no attackers places his actions neither above or below those of other Medal of Honor recipients. It just makes them a little different than many.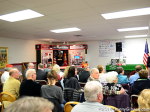 Doug Dickey was a classmate of mine. He has been mentioned before in this blog and in my trip journals. This entry is prompted by the dedication of a greatly improved museum exhibit organized around a newly acquired display-only copy of his Congressional Medal of Honor. That dedication took place on Friday, November 14, at the Garst Museum in Greenville, Ohio.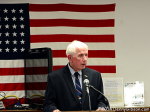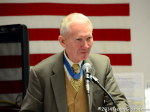 The featured speaker was Major General James E. Livingston, USMC (Retired), who is one of just 79 living Medal of Honor recipients. General Livingston's speech was stirring and his presence certainly added to the prestige of the event but preceding comments from Lt. Col. Tom C. McKenney, USMC (Retired) were, in my opinion, more gripping. Neither man had ever met PFC Dickey but McKenney had heard his story back in 1968 and was instrumental in obtaining the Medal of Honor being placed on display. Some of the story he had heard all those years ago had stuck around in some corner of his mind. A visit to Darke County and hearing it again had pried that memory loose. He had heard the story from someone who was there and who had described the quick motion of Doug's eyes from the grenade to a wounded and immobile soldier to the corpsman treating him to the platoon leader. Although the time it took to make his decision was hardly more than that involved in an instinctive reaction, there had clearly been a decision. There are other Medal of Honor citations that end, as Doug's does, with the phrase "He gallantly gave his life for his country." It's quite clear that Doug did literally give his life and that he knew what he was giving. I'm pretty sure, though, that he didn't give it so much for his country as for those individual human beings he barely knew.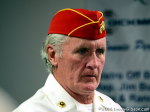 One of them was Greg "Doc" Long, the corpsman. He is, in fact, the only currently living member of the group that was in that crater. He did not speak during the ceremonies, only stood when McKenney introduced him, but I don't think I'm alone in appreciating his presence most of all.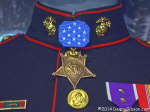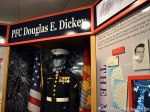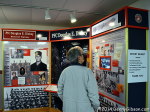 The event was well attended and the display is extremely well done. It includes glimpses of many aspects of Doug's short life and a video, with footage from the 1960s and 1970s, that was shown as part of Friday's program. Kudos to all involved.
---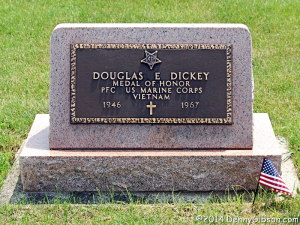 Addendum 18-Nov-2014: I hinted at other mentions of Douglas Dickey on this site but did not identify them. In correcting that oversight, I realized that I've not posted a photo of Doug's grave anywhere. A photo of the grave marker is at right. The only other blog mention is here.
The following are trip journal references:
---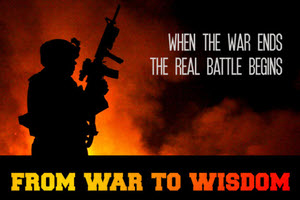 Another Marine I know, along with a bunch of other folks, has been putting a lot of energy and sweat into a feature length movie helping some of today's veterans tell their story. They have reached the point where their own sweat isn't quite enough. Click on the picture to check it out and maybe chip in a few bucks if you can.