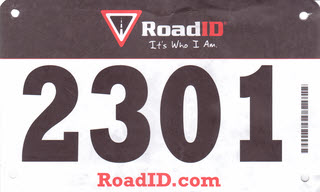 I have now participated in every one of the Cincinnati DAV 5K events. All two of them. Entries were up a little in the second 5K Run/Walk/Roll/Ride and it now has a companion event in San Diego. Cincinnati's second DAV 5K took place yesterday, November 8. San Diego's inaugural DAV 5K is scheduled for today, November 9.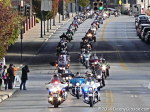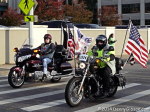 This year, a long line of motorcycles roared past the waiting runners and walkers a few minutes before the starting gun was fired. Most, if not all, were ridden by veterans most of who would park their bikes and stand near the end of the course to cheer and thank those on foot.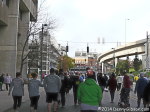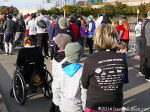 As I did last year, I started (and finished) near the back of the pack. This year, however, I was alone. Dave, who had sort of recruited me for the first event, was on his way to Akron. A couple of weeks ago, when we last spoke, Dave told me he would be dashing off to something as soon as the walk was over and that it would be best if we drove separately. I sent a text when I left home to start coordinating a starting-line hook-up only to learn that he had forgotten the walk and had started his dashing early. I was left all alone except for the couple of thousand runners and walkers surrounding me.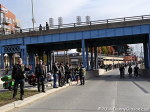 As expected, those bike riding veterans were lined up near the finish encouraging and thanking everyone that passed by. As I explained last year, I walk similar distances often enough that I didn't really need the encouragement but I still appreciated it and, even more so, the shouted "Thank you"s. I exchanged hand slaps and thanks with many of those standing by the road. But there were several people, especially in the trailing part of the herd I traveled with, who no doubt welcomed and benefited from the words of encouragement as well as the cheers. Quite a few people were pushing wheelchairs or strollers or walking with a cane and for them a 5K outing was far from easy. Those people were not, incidentally, all behind me.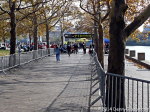 There were 2147 people who crossed the finish line this year compared to last year's 2035. A fellow in a hand-cycle covered the course in 14:01. The fastest runner did it in 17:14. I did it in 1:08:29. That's a little quicker than last year's 1:12:41 but I can explain. Part of the difference is that it was noticeably colder than last year and I was probably moving a little faster. But I have little doubt that the main reason for the more than four minute difference was that Dave wasn't there setting the pace and giving me the proper motivation. There were almost forty people behind me this year. I can do better.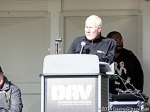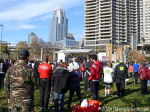 The brief closing ceremonies included a few awards and some words from DAV National Commander Ronald Hope. Bigger — and no doubt warmer — post-race celebrations immediately followed with different Banks area bars set aside for "reunions" of the various branches of the military. This draft dodger slipped away feeling a little better about myself and with a deep appreciation for our veterans.