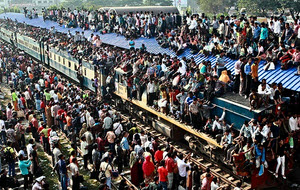 Amtrak has a simple but incredibly effective way of avoiding scenes like this at its station in Cincinnati. Eastbound trains are scheduled to depart at 3:27 AM; Westbound at 1:23 AM. That's AM as in "ante meridian", as in "before midday", as in "middle of the night", as in "dark as a black cat in a coal mine". That would seem to be sufficient discouragement but, just to be on the safe side, Amtrak frequently misses those times by sizable amounts. On rare occassions, they might even cancel a train a day or two before departure as they did for me in 2011.
I made it this time though not exactly as planned. Between the time I left home and the time I reached the station, the Amtrak Cardinal had gone from 8 minutes late to 3 or 4 hours late. It finally pulled out of Union Terminal with me on board at 8:03 — a mere 4 hours and 36 minutes behind schedule. It was no longer dark. My plans for the evening are clearly demolished but I still have hopes for the rest of this trip to Washington, DC. A Saturday concert remains on the agenda followed by a couple of days roaming around the National Mall before heading back home on Wednesday.
The trip journal is here. This blog entry is to make blog-only followers aware of the trip and to provide a place for comments which are very welcome and appreciated.