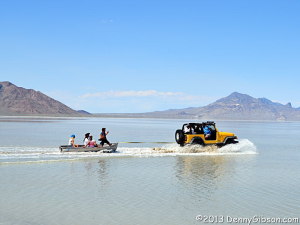 I've received a fair number of email messages and even a couple of real mail messages from folks who have read my book By Mopar to the Golden Gate. Some reported an error or two but none have been negative and every one of them put a smile on my face. One, however, had me not only smiling but shaking my head in disbelief. It came from a race fan in England who wanted to be at the Bonneville Salt Flats to help celebrate the 100th anniversary of the first land speed record set there. His initial thoughts were to fly to the east coast of the US and dash across the country to the event. His wife thought attending the festivities was a fine idea but not so the "dash across the country". She wanted to see more than a few expressways. They discovered the Lincoln Highway Association website and, in his words, "that was that… the LH was perfect".
Detailed route planning, it seems, did not go much beyond that. There wasn't much time and I have the impression that this pair of Brits is rather spontaneous as well as adventurous. After all, the idea of going to Bonneville had been hatched while watching a TV show about the upcoming centennial. He got a copy of By Mopar to the Golden Gate a few days before they left and started reading it on the flight to Newark. I was certainly grinning broadly as I read that but then came the line that led to the head shaking. "Your book was our guide as we did the 2500 miles to Utah", he wrote.
Surely he can't mean that, I thought. The book certainly was not intended to be a guide book and I could not now imagine it being used that way. There are no real directions and no maps with resolution much finer than the average county. Eventually, though, I think I understood. From the online map and other sources, they had a pretty good idea of the highway's course and roadside markers, beefed up in spots for last year's Lincoln Highway Association Centennial, were quite helpful. The couple wasn't trying to follow every inch of the old highway. They wanted to get to Bonneville and following the general route of the Lincoln Highway was an entertaining way to do that. The book is about the LHA Centennial Tour which stopped mostly at major highlights so highlights are essentially what appears in the book. It provides a list of some major spots that define the Lincoln Highway and that is the sort of guide that was meant.
Reading the following paragraph gave me more of an ego boost than is healthy but it's really the road and not the book that prompted the praise.
Denny we had a great time we met fantastic people in all kinds of small towns we stayed in some really cool places such as the Virginian in Medicine Bow and were guided by you and the Valiant mile after mile. We lost the markers from time to time but always got back on track.
Sadly, rains and flooding caused Bonneville's Speed Week to be canceled (Which is why I started this article with a picture from the book of our similarly flooded out 2013 stop.) but the drive saved the trip. Ian and Caroline are planning to return to the US for Speed Week and the rest of the Lincoln Highway in 2016. Plus, a colleague borrowed and read the book and is now starting to think of his own Lincoln Highway trip.
By itself, By Mopar to the Golden Gate cannot actually guide anyone along the Lincoln Highway (for that I recommend Brian Butko's Greetings from the Lincoln Highway) but maybe it can identify some highlights along the historic route and introduce it to some folks who know little or nothing about it. I'm ending this with the sentence that ended Ian's email. It makes me grin every time I read it.
So thank you Denny you gave me a plan and we have had a blast, driving on red brick Ohio lanes and seeing seedling miles (after filling up with gas at the garage) dirt roads drive ins and a sense of adventure.