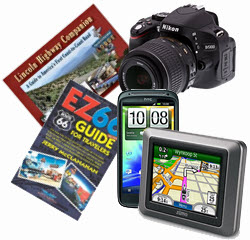 I recently received a request/suggestion for a post on "must have" road trip items. I initially blew it off but returned to it a week or so later. Since I am about to actually head out on a road trip, I need to stockpile some "dateless" ("timeless" almost, but not quite, fits) articles for posting while I travel. You know, the "Trip Peek" or "My Wheels" sort of things that have no connection to what I'm actually doing but can be posted at anytime to meet the blog's every Sunday schedule. In the middle of generating a couple of "Trip Peeks", I remembered the email and realized that the suggested "Road Trip Essentials" was as good a topic as any. Of course, it would take more time than a "Trip Peek" but it could be sort of a consolidated "My Gear" and it might be fun. If it also made somebody (the requester) happy, even better.
The request came from RelayRides (now Turo), a peer-to-peer car rental outfit. I'd never heard of them and naming them is not meant to endorse them but I could see that continued references to "the requester" were going to get old. Though the services offered are different, the contact from RelayRides (now Turo) reminded me of a recent conversation with some friends about Uber, a person-to-person taxi service. After using Uber on several occasions in a couple of different cities, they were singing its praises. These person-to-person/peer-to-peer businesses are certainly worth keeping an eye on. The RelayRides (now Turo) call was for blog posts that could tie into an upcoming "Road Trip Essentials" campaign. There is absolutely nothing in it for me except the possibility of an extra visitor or two but neither are there any restrictions or guidelines. The friendly and conversational request used playlists, caffeine, and frozen grapes as possible essentials so my list may be a little more serious than what they're thinking. I believe everyone knows, however, that, while I take my road trips seriously, they are rarely serious trips. There was no actual suggestion that I include a collage but the word was used twice and I figured making a small one might be fun. It was.
The camera needs little explanation. If I'm on a full tilt road trip, I need pictures for the daily updates and there are other trips taken with the clear intent of using all or part of the outing in a blog entry. In addition to pictures that, if they're not too crappy, might appear in a journal or blog entry, I use a camera to take notes. Snapping a photo of a sign or menu is a lot easier and less error prone than trying to write down what I think I might want to know later. Even when there is no advance thought of documenting any part of a trip, l want a camera near by in case some Martians land along the road or Bruce Springsteen's car breaks down and he needs a ride.
I imagine that almost everyone now considers a GPS unit at least useful on a trip. It can keep you from reaching Tijuana instead of Vancouver and can be a great help in finding gas, food, or lodging. I do use mine to find motels and restaurants and such but I also use it in a manner that makes it truly essential. Many of my trips are on historic (i.e., imaginary) highways. They probably don't appear on any current map or atlas and there are few, if any, signs to follow. Even if there were, I typically travel alone with no one to constantly read maps or watch for signs. What I do is plot the exact route I want to follow and load it into the GPS unit which then verbally directs me along my chosen path. Yes, it does require a fair amount of advance work and a more capable than average GPS unit.
Even with every turn programmed into the GPS, I pack guide books and maps. The GPS can fail, the situation on the ground might not match the plotted course, or my intentions might simply change. Plus, guidebooks like those in the picture provide valuable information when putting together a journal or blog entry.
The last item pictured, the cell phone, is the electronic Swiss army knife of our age. It is almost essential to everybody everyday just to talk, text, search, and email. In my case, in the context of road trips, it is also essential as a backup camera and as a voice recorder. Not too long ago, I would have included a small voice recorder in my essentials but the phone now serves to make quick notes especially while driving. I still carry a digital recorder for use when appropriate but it no longer rides on the seat beside me.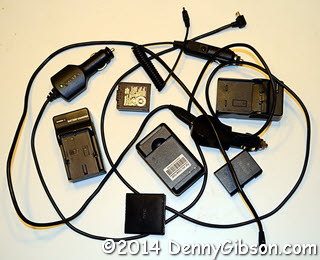 Of course, all of those accessories have their own accessories. For many years, I only bought gear that used AA batteries on the theory that I could always buy power at the corner drug store if required. I believe that happened once. I carried around a bag of nicads and the chargers to fill them in either car or motel. I eventually had to abandon that position but I still cling to the ability to recharge everything whether stopped or on the go. I now carry spare proprietary batteries and AC/DC chargers for two different cameras and a cell phone. I do not carry a spare for the GPS since I seldom operate it on battery power.
I'll also almost always have my laptop along and some music/podcasts, and maybe, depending on departure time and length of trip, a thermos of coffee and a cooler. The cooler will have water or Gatorade and possibly a beer or two. There will probably be some carrots, or apple slices, or grapes in there, too. Next time, the grapes might even be frozen.
ADDENDUM 24-Nov-2015: This post has been edited to reflect a name change from RelayRides to Turo.