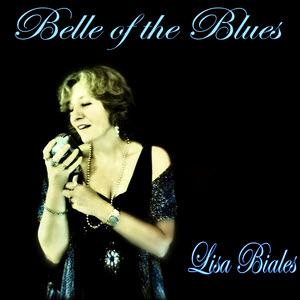 They did it again. Co-producers EG Kight and Paul Hornsby captured another set of tracks that feature Lisa's wonderful voice but don't short the listener one bit in the sound behind it. Back in 2012, Kight, Hornsby, and Biales hooked up for Just Like Honey which contained some Biales and Kight originals but consisted largely of tunes written by or associated with a number of Biales' influences. Those influences are not totally ignored here, there's a tune written by Memphis Minnie and another that Bessie Smith made famous, but Kight wrote or collaborated on seven of the eleven songs on Belle of the Blues.
As they did on on Just Like Honey, Tommy Talton (guitar) and Bill Stewart (drums) appear on every track with Tommy Vickery and Johnny Fountain splitting bass duties to bound out the core trio of backing musicians. This line up is frequently augmented by the likes of Pat Bergeson on harmonica, Ken Wynn on guitar, and Randall Bramlett on organ. Kight adds some vocal and guitar help and Hornsby plays piano on several tracks. Something that I thought a nice touch, although it only shows up in the digital version of the track listing, is the identity of featured musicians in the titles. Examples are "Sad Sad Sunday (Featuring Tommy Talton & Randall Bramblett)" and "Belle of the Blues (Featuring Pat Bergeson)".
Despite all the talent involved in writing, recording, and playing, this is clearly a Lisa Biales album. Her voice is out front and in control of every song from the sultry "Sad Sad Sunday through the raucous "Bad Girl". She even takes charge of "Trouble", a song firmly associated with Kight (she wrote it and made it the title track of a 2000 release) in a way that, while it won't make you forget EG, will sure make you remember Lisa.

---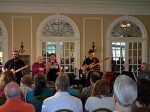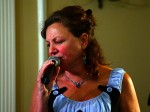 In Nashville, the Long Players exist solely to deliver live performances of entire albums. Individual songs may be rearranged to fit specific performers but when they do an album, they do it all and they do it in the same sequence it once appeared on your turntable. That's the way I first heard Belle of the Blues. At Friday's CD release in Oxford, Ohio, Lisa started things off by performing all eleven songs "just like the record". I believe it was also the official debut of the quartet she's calling the Belle of the Blues Band and with which she will be preforming other shows in the coming months. I won't claim that this group (Bill Littleford guitar, Dave Mackey drums, Noah Cope bass, Chuck Wiggins keys) is better than the high powered crew that did the studio version, but I can report that they are mighty good and the performance was not wanting in any way.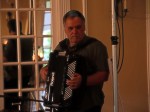 A short break followed the album then the group returned to do an assortment of songs from Lisa's repertoire. One was a Jimi Hendrix tune that Lisa has been performing at least since 2010 when she included it on her Closet Hippie CD. As a result, I got to hear the Little Wing solo performed on accordion for the first time ever. I liked it.