Back in 2011, while traveling in northern Ohio during the month of March, it occurred to me that checking out a Lenten fish fry might be a nice break from eating at establishments practicing commercialism full time. It was and I've made a habit of patronizing such operations ever since. This year, for what I believe is the first time, I managed to eat at a Friday Fish Fry during every week of Lent and here they are.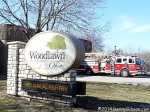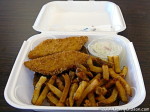 The first Friday of Lent coincided with the start of Bockfest. I'm thinking that might not be a coincidence but don't really know. Since the Bockfest Parade was firmly on my schedule, I opted for one of the few fish fries serving in the afternoon. As it turned out, a downtown church operated their fish fry more or less in conjunction with the festival and I could have combined the two but didn't realize that until it was too late. While I ate my dinner at the Woodlawn Firefighters Association Fish Fry, a large ambulance and a smaller fire truck sitting next the truck in the picture went speeding off to answer a call.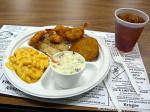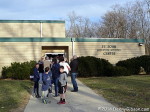 The second week I left home for something some distance away but changed my mind as soon as I pulled into traffic. Congestion prompted me to head for the reasonably near St. John the Evangelist Church in West Chester. I chose the sampler which got me some fried shrimp, a crab cake, and baked fish. I could have had fried fish with my sampler or I could have had just fish, baked or fried. I also could have had pizza. For crying out loud! Pizza? I suppose you could claim that things started down the slippery slope when they started offering non-fried (i.e., baked, grilled, broiled) fish at functions called "Fish Fries" but, to me, at least, that seems to be much more in keeping with the spirit of things than pizza. At least it was cheese pizza which is in line with the "meatless Fridays" concept on which this whole fish fry business is built.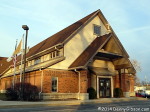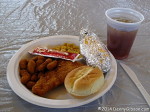 On week three I drove to Wilmington to meet my friend John with intentions of taking in a fish fry in Lebanon on the way home. When the conversation turned to my fish fry plans, mention was made of very popular one in Washington Court House. Wilmington is roughly midway between my home and Washington Court House which meant that, while it was still several miles away, I was the closest I was likely to be during serving time. I made it to the Saint Colman of Cloyne church with about fifteen minutes to spare. John thought the fry's fame and popularity came from an abundance of walleye parishioners brought back from the Great Lakes. While that may have once been the case, the big draw currently, in addition to it being an all-you-can-eat affair, is pollock. Apparently it is such a big part of the attraction that they preempt  confrontations when they run out by posting the news on the main entry door. The "Sorry, we're out of pollock" sign was displayed when I arrived and apparently had been for awhile. The cashier reiterated the absence of pollock and suggested I check out remaining offerings before paying then charged me $5 rather than the advertised $8. All that and a cupcake, too.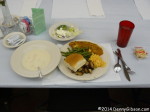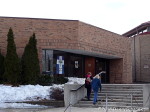 I would be spending week four's Friday in Ann Arbor, MI, which meant a little extra research but it sure worked out well. I picked a fish fry within walking distance of my motel for its convenience and lucked into an excellent meal. That salad is from a salad bar. At $2, the add-on clam chowder was a real bargain. There is baked tilapia, mac & cheese, new potatoes, and green beans on the big plate and it was all delicious. And that includes the beans which, unlike the overcooked mush that is all too common, actually had a nice snap. St Francis of Assisi has the best fish fry in the entire state of Michigan AFAIK.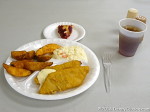 Week five found me back in Wilmington for birthday eve drinks with buddy John which led to this year's only repeat, St Columbkille. Baked tilapia was on the menu but was at least temporarily in short supply and its consumption was ever so slightly being discouraged. I didn't mind a bit and enjoyed a more traditional fish fry meal of cod that was actually fried. Cherry pie included.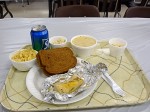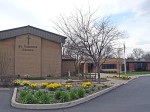 This is where I was headed on week number two when the traffic caused me to reconsider. St Veronica is just down the road from Mt Carmel Brewery where I had intended to stop after dinner. Since then, I learned that the taproom now opens at noon on Fridays so I left home earlier, avoided the traffic, and visited the taproom before dinner. This was a good meal and I'm happy that clam chowder is starting to show up more and more. Also showing up more and more are non-fish items like pizza and grilled cheese sandwiches. I believe I actually saw grilled ham & cheese on the menu here but I've got no proof so maybe I imagined it. I'd like to think that't the case.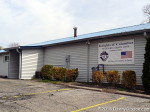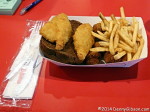 Plans with friends meant I couldn't make a Good Friday fish fry for dinner but I found one that fit my schedule. Lunch at the Knights of Columbus in Erlanger was my only fish fry outing in Kentucky this year although I've gone to other locations in the state in the past. Their dinner menu is pretty complete with baked and fried fish along with shrimp, chicken!, and hamburgers!!. The only thing on the lunch menu is the sandwich in the picture but it's a pretty good sandwich that comes with french fries and hush-puppies for a mere $5. I asked about those Lenten hamburgers and was told they don't sell many. Maybe one a week to some youngster. Chicken nuggets, however, move rather well. But fish fries aren't restricted to Lent for this particular K of C council. In addition to being held every Friday during Lent, they hold a fish fry on the first Friday of every month during the rest of the year. Non-Lenten hamburgers sell really well.