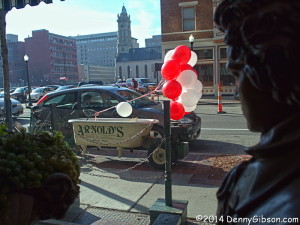 Happy Birth Week to Me. A week that ends on Saturday has to start on Sunday but not much happened Sunday. Monday, however, was a different story. It was Opening Day. With temperatures climbing into the sixties, it was a fine day to start the Reds' season and really get my birth week rolling. I often visit Arnold's after the Opening Day Parade but this year decided to start my day there when I learned that Cincinnati's oldest bar would be tapping several unusual beers at 9:00 and serving breakfast from 9:00 to 11:00. I passed on the early morning beer but did enjoy breakfast in what I believe is Arnold's only window seat.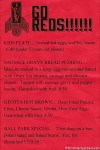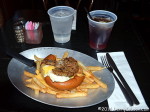 Arnold's normally opens at 11:00 with lunch as the first meal of the day. The special breakfast menu was short. Kids under five could have scrambled eggs. Adults had three choices none of which appear on the menu at IHOP. There were hot dogs, for those wanting to get an early start on the ball park diet plus Sausage Gravy Bread Pudding and Geotta Hot Brown. I decided that the Geotta Hot Brown was the most "Cincinnati" of the choices plus, as you can see by the picture, it's just the thing if you're planning on running the bases several times later in the day. As I was leaving, sometime after 10:00, I heard a waitress telling new arrivals that the goetta supply had been depleted and that ham was now being substituted. Bummer but technically not a violation of Porkopolis guidelines.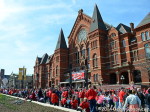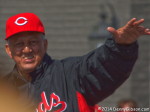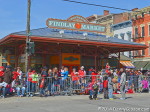 I reached the parade's Findlay Market starting point well before the noon step-off and was working my way back along the parade route when things began to roll. I was not at a very good vantage point when Grand Marshall Dave Concepción came by but managed an only partially obscured picture. The scene in the last picture is an unusual one. Because of street car construction, the parade, which usually runs straight down Race Street, detoured over to Elm for several blocks which took it right by Music Hall. It is expected to be back on Race next year.
I am aware of a campaign to make opening day a national holiday (or maybe — it is organized by Budweiser — it's a campaign to sell beer) but I don't see that happening. The fact that not all teams open the same day is just one of the details bedeviling the idea. It is really immaterial to Cincinnatians since opening day has been a de facto holiday here for decades. Sometimes Reds opening day and my birthday actually do coincide as they did in 2012 when I wrote a little more about opening day history.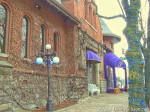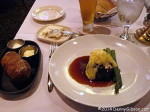 Tuesday was nice but windy. As I ate lunch on the patio of a local pizzeria, a strong gust lifted the large umbrella standing unopened in the center of the table and tried to drop it on my head. It missed. Rain arrived Wednesday afternoon but I got in about a 6K walk before it hit. Six kilometers isn't all that much when there is a bar and a meal at the turnaround point. On Thursday, I bought myself a birthday present and ate it. I finally made it to the Precinct where I devoured what might have been the best steak I've ever had the pleasure of knowing. The only possible exception is a filet I ate at the Pine Club in Dayton but it is only a possibility. More research is needed.
Good times continued on Friday with a few drinks with buddy John in Wilmington and a continuation of this year's fish fry streak at Saint Columbkille.
On Saturday, my actual birthday, I had to work. Well, maybe not exactly work. OK, not even remotely work. It did, however, involve just about the only thing I do on a regular schedule, live trivia. The team once again qualified for the semi-finals which took place at noon. I really intended to get a picture to include in this post but completely forgot in the heat of competition. The top five teams move on to the finals. We tied for sixth.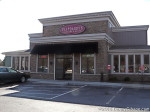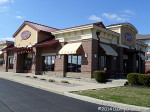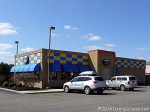 My plans for the rest of the day centered around doing nothing. It was a beautiful day, however, with temperature in the fifties so, as soon as I got home, I headed out for a walk. Within a few steps, I came to the realization that I could continue the celebration and not leave the neighborhood. Not only did I personally stay close to home, there's hope that some of the money I spent will stay nearby as well. I made three stops and all were at regional chains based in Cincinnati. I started with a 4-way at Skyline, had Chocolate Coconut Almond Chocolate Chip for dessert at Graeter's, then washed it all down with Mount Carmel Amber Ale at Flipdaddy's. A birthday that was good to the last drop.