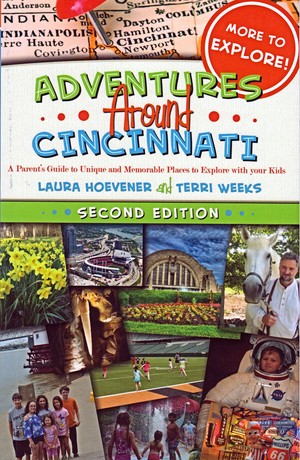 Two really big things have happened since I reviewed Terri Weeks ebook, How to Visit All 50 States in 12 Trips, in February.  One is that we one day had lunch together so I can no longer joke about never having met this fellow traveler in the "neighborhood".  OK, so maybe that's not all that big a deal, but the second thing, the release of the second edition of the book Terri co-wrote with Laura Hoevener, certainly is. I mentioned the book, Adventures Around Cincinnati: A Parent's Guide to Unique and Memorable Places to Explore with your Kids, in that earlier review and pointed to the "Kids" in the subtitle as the reason I was not familiar with it. There is no question that the book is aimed at people with kids but a scan of the list of attractions in the first edition revealed that, just like the list in How to Visit…, most things on it can be enjoyed by us old folks, too. In fact, the majority were attractions that I had visited myself and enjoyed despite being an "adult of long standing".
The new edition has the same basic structure as the first. The difference is pretty much described by the phrase "More to explore" in a red circle on the new cover so, if you are familiar with the 2011 version, you can stop reading right now and just go ahead and order your copy of the new improved 2014 model.
The bulk of the book — 266 of 336 pages — is devoted to describing more than 120 attractions which is a considerable increase from the "Over 80…" of the first edition. Since the authors report that there are "about 50 new Adventures" this time around, I'm guessing that ten or so have been removed for one reason or another. Of course, in addition to adding a bunch and removing a few, Hoevener and Weeks updated entries as needed. For each attraction, a fixed list of key features is followed by a paragraph or two of descriptive text. Although, as the math shows, the average entry fills a couple of pages, this entry for a railroad museum is otherwise typical.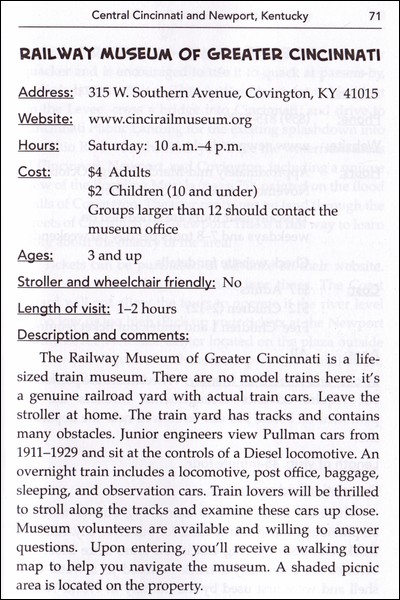 Attractions are listed alphabetically in four geographic groups. The first, "Central Cincinnati and Northern Kentucky" is centered around downtown Cincinnati. "Greater Cincinnati" includes Cincinnati suburbs and slightly less northern bits of Kentucky. There is a section for "Dayton" and "A Hop, Skip, and a Jump" replaces a section called "Columbus, Lexington, Louisville, and Indianapolis" in the first edition presumably because some of the hops and jumps went beyond those four cities. But even the most remote of the attractions are within a two hour drive of Cincinnati and those are two mini-van hours not two Ferrari hours. Each section begins with a map showing the locations of listed attractions and every listed attraction has been visited by at least one and usually both of the authors.
"Attraction Listings" is the middle of the book's three major parts. The first part, "Creating Memories with Your Family", tells how the two authors and mothers hatched the idea of regularly scheduled "adventures" for their families and how they have used it to great advantage for some ten years. Two words struck me as I read this section: "deliberate" and "intentional". Every one has experienced ad hoc versions of what Terri and Laura call adventures but diving into them deliberately and intentionally on some sort of regular schedule is what has provided real value as a parenting tool. Beyond telling how they have done it, the authors give tips on how others, in different situations, might implement their own system of adventuring. The usefulness of these tips isn't limited to the Cincinnati area and what is basically this portion of Adventures Around Cincinnati has been made available as a standalone ebook titled Adventures Around You.
The book's third part, "Planning Help", makes good on its name by providing help for using the other two parts in planning your own adventures. There are a couple of sample itineraries and some suggestions involving attractions not detailed in the book but the most help, in my opinion, comes from a table of all the attractions that are detailed in the book. It's something of an index on steroids. The attractions are listed alphabetically along with the page numbers of the full entries then other columns in the table give general locations, identify the attraction type, etc. One column marks free attraction and there really are quite a few of them.
I've lived around here long enough and done enough poking that, as I mentioned earlier, I've visited the majority of listed attractions. But not all. There are several, like the Rumpke Landfill Tour and the Anthony-Thomas Chocolate Factory Tour, that even this old poker didn't know about and which will likely be part of my own adventure someday. But the ideal audience for this book is the young Cincinnati area family with one or more curious young 'uns ready for adventure. Hey, that sounds like my daughter's family. I'm thinking gift list win.
In addition to being available through Amazon and some area bookstores, signed copies can be purchased directly from the authors.
Adventures Around Cincinnati: A Parent's Guide to Unique and Memorable Places to Explore with your Kids, Laura Hoevener and Terri Weeks, Hourglass Press; Second edition (March 15, 2014), paperback, 8.5 x 5.6 inches, 336 pages, ISBN 978-0991085408