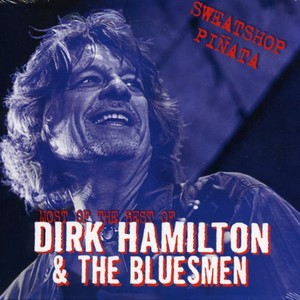 The album's full title is Sweatshop Piñata: Most of the Best of Dirk Hamilton & The Bluesmen. If that means there may someday be another album with the rest of the best of Dirk Hamilton & The Bluesmen, I'm in.
Dirk has a sizable fan base in Italy and has spent part of many summers touring there. For the last few years, he has done that in the company of an Italian band called The Bluesmen. A portion of the 2005 tour was captured and made available as a CD and DVD package titled Sometimes Ya' Leave the Blues Out on the Road. Now they've got a studio album with no road involved at all. That 2005 recording included some Dirk Hamilton compositions, a few covers, and a few tunes that Dirk co-wrote with The Bluesmen's guitarist, Roberto Formignani. The international collaborations were essentially made up of Hamilton's lyrics and Formignani's music. That's the arrangement on every song on Sweatshop Piñata except two where keyboardist Massimo Mantovani also contributed. This is hardly the first time Dirk has collaborated with others. There are plenty of examples of him co-writing songs with guitarist Don Evans or bassist Eric Westphal. This is, however, the first time he has collaborated on an entire album and it is also the first time he has done an album of all blues.
None of that, of course, keeps Dirk from doing some lyrical ear tickling. On The Collector, one of the most hard core blues tracks on the album, the list of things collected starts with "Mojos, yo-yo's, maybe butterfly wings". Two of my favorite lines come from the short and funky "Baby Take A U-ey". When he asks for rent money, it is because "My bullfrog wouldn't like it if we had to move again". Then he warns folks at his funeral not to cry and instructs them to "Just chisel on my tombstone, 'He came, he sang, he died'". Unlike some Dirk Hamilton offerings, there is nothing at all political here. There is some social commentary (I'd be disappointed if there wasn't.) but it all concerns individuals like the aforementioned "collector" or the empty headed target of "Automaton Town".
Good lyrics and good music deserve good execution and they get it. Formignani's often biting guitar is up front on almost every track. Mantovani takes the lead a little less often than Formignani but he is never hiding. He makes major contributions to most cuts on piano, organ, or both. He also arranged the horns that appear on several tracks. Roberto Poltronieri (bass) and Roberto Morsiani make up the talented rhythm section.
The mention of horns might make you think this album has a big sound. It does. Instrumentation is an area where there is some real contrast between this and Dirk's preceding album. That album, solo mono, was a true solo effort with nothing but Dirk's voice, guitar, and harmonica. Oddly enough, one song appears — and sounds good — on both. Assuming a specific meaning for a Dirk Hamilton lyric is never a safe thing to do so I may be way off on this. On solo mono, "Where are all the Rebels?" has lots of nice guitar work and plenty of harmonica. The harmonica supplies a touch of melancholy. To me, Dirk seems to be mourning the disappearance of those 1970s rebels. The Sweatshop Piñata version is faster. The harmonica and acoustic guitar are still there plus there is an electric guitar with some serious tremolo now and then, driving drums, piano AND organ, and a banjo! This time, I feel like Dirk just might be challenging those vanished rebels to come out and make some noise with him again.
I love them all but it's a fact that some of Dirk's offerings are a little tough to classify. Not so this one. Sweatshop Piñata is solid mainstream blues. I've mentioned that I've never seen Dirk live with a full band. My dream is still to see Dirk, Don, Eric, and Tim (a.k.a. The Dirk Hamilton Band) somewhere sometime but seeing a long tall Texan fronting a bunch of Italians at a Mississippi delta blues festival might satisfy me for awhile.
This and other Dirk Hamilton CDs can be purchased here.
My review of solo mono is here.
---
Technical problems resulted in the posting of this review being delayed one day to a Thursday rather than Wednesday.