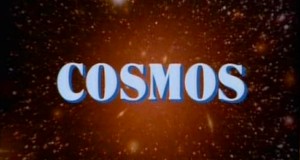 Back in 1980, Dr. Carl Sagan wrote a book called Cosmos as a companion to a TV series named Cosmos: A Personal Voyage which he co-wrote and "starred" in. I watched the series and read (and still have) the book. Sagan was a smart guy and a darned good communicator. In the book and the program, he set out to share the scientific community's knowledge of the universe — the cosmos — with the masses. It's generally accepted that he did a pretty good job. Until Ken Burns came along with The Civil War series in 1990, Cosmos ranked as the most watched PBS series ever.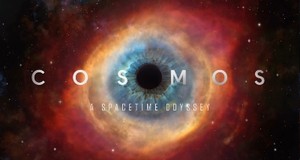 Now another smart guy and good communicator, Neil deGrasse Tyson, is trying it again. We, the residents of Earth, have learned quite a bit in thirty-four years. The first episode of a new series, Cosmos: A Spacetime Odyssey, aired last Sunday, March 9, on the Fox Network and Monday, March 10, on National Geographic TV. Additional episodes will be shown on subsequent Sundays and Mondays until thirteen episodes — same as the original — have been broadcast.
The chances are good that nothing I've said so far is news. The original Cosmos is legendary and the new one has been getting a lot of press. That first episode was even preceded by an introduction from President Obama. But there is at least a small chance that, like me, you missed the premier and that's my excuse for making this post. Here's my Cosmos: A Spacetime Odyssey episode one story.
It was the first TV show I've really wanted to watch in years. I got home from Bockfest in plenty of time and was parked in front of the properly dialed in TV as showtime approached. At this point, the accomplishment of a timely return home was nullified by the thing I returned home from. Last week's post was on the Bockfest Parade which I had attended on Friday evening. I was back at the festival on Sunday and sampled some of the namesake product. With the odyssey start just minutes away, I dozed off.
For many, that would not be a problem. They would have had their DVRs all programmed and the show would have been recorded for viewing later. I have no DVR nor do I have access to National Geographic TV so watching the Monday night broadcast was out. Thankfully, Fox has provided a Cosmos On TV website. where I was able to watch the first episode, "Standing Up In the Milky Way", as well as the President's introduction and other related videos. It looks like future episodes will also be available there which I certainly appreciate since I'm guessing I might miss another broadcast showing or two.
It is clearly too early to know if "Cosmos II" will equal "Cosmos I". There are plenty of connections between the two including the fact that Carl Sagan's widow, Ann Druyan, was a co-writer of the first and an executive producer of the second. And there is a Tyson-Sagan connection, too. They first met when the seventeen year old Tyson was researching schools and the world famous scientist gave the aspiring one a personal tour of Cornell. Near the end of his first Cosmos episode, Tyson talks about that day. "I already knew I wanted to become a scientist, but that afternoon I learned from Carl the kind of person I wanted to become", he says. Tyson also spoke of that day in an interview with Bill Moyers where he recalls thinking "If I'm ever in a position of influence the way he is, then I will surely interact with students the way he has interacted with me, as a priority." That excellent interview, spread over three shows, is here, here, and here.
The new Cosmos has already received some attention and generated some discussion. I'm confident there will be more and I have hope that it will also have some impact. I don't believe in miracles but having something on commercial TV that I actually want to watch is mighty close.
---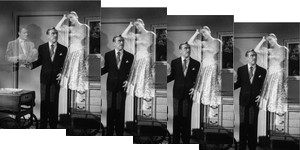 This picture is of a TV series nearly thirty years older than the first Cosmos. That series was a comedy and about as far from scientific as it is possible to get. Its title character was a straitlaced bank president named Cosmo Topper. There was only one of him but, had there been more, they would have been called…