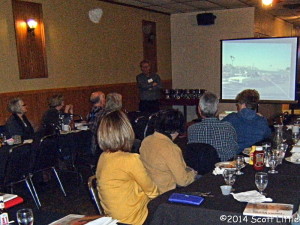 When the Lincoln Highway Association was reborn in 1992, Ohio's organization took the form of three chapters operating as a "league". However, until late last year, that was on paper only. In October, a West chapter was formed to join the existing East and Central chapters and Larry Webb was elected its first president. Larry knows my cousin who lives in Van Wert and one day she mentioned my recently published book to him as something he might be interested in. He ordered his own copy and gave me a call after he'd looked it over a bit. He asked if I was making presentations related to the book and I answered, "No, but I probably should be." He then offered up the recently formed chapter as "guinea pigs" at their next meeting on February 18. Although I put him off for a bit, I eventually agreed and found myself asking, in a conversation with myself, "Just what have you gotten us into now, Bunkie?"
During my working days, I had spoken to a few small groups but was never very comfortable with it and it was a long time ago. The book in question is By Mopar to the Golden Gate which tells of a cross country drive on the Lincoln Highway which is why a Lincoln Highway Association group was interested. It contains a lot of photos and I had taken many more on the trip so that's where my planning headed. A few pictures would help a bunch. Not only would each one reduce my speaking requirement by a thousand words and give the audience something to look at, they could be my notes. With a little time to refresh myself on dates and such, I could rattle on about some pictures I'd taken without a teleprompter or learning a lot of new stuff.
I started browsing through my pictures and, at the same time, started looking for a way to present them. Larry had told me a projector and screen would be available that I could (hopefully) run from my laptop. I looked at a few slide show programs and ended up settling on OpenOffice Impress, a free PowerPoint-like application. It allowed me to add information (reminders) to photos as well as create non-photo slides to provide other information.
I made a pass through the photos picking out candidates. I reduced this rather large list to about 125 photos that I thought might be good for some presentation then to about 50 that I thought would be good for this presentation. I recorded myself going through things a couple of times to get a handle on the length and to determine where my memory was going to need more help than a photograph provided. I made up a couple of slides with some general statistics and other items. I decided I was as ready as I was going to get.
When I'm on the road, leaving a motel is often a slapdash sort of thing. Half the time I'm packing up the power supply while my computer is doing its shutdown on batteries. As I got ready to leave home on the day of the presentation, I took no short cuts and made sure everything shutdown in the right sequence. I drove to Van Wert and, as soon as Larry arrived, carried my computer in and turned it on. "Gotcha!", it said. Or something along those lines that meant things are not right and I'm going to run a disk check. It ran the check, it fixed a thing or two, and it completed powering up. All was well and any risk of me becoming too relaxed during the evening was effectively eliminated.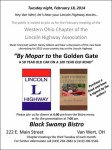 All really was well. Not only did the computer function properly, so too, within limits, did I. The audience of approximately twenty-five was just about perfect. They knew enough about the Lincoln Highway to be interested but not enough to be bored. There was even applause, which is something I'm not at all familiar with, at the end and their interest was further demonstrated through several very good questions. It remains to be seen whether I do any more presentation of this sort but I survived this one and even enjoyed it. For me, the primary purpose was to get some experience and not to sell books but I did sell some. Four copies were sold and a few more placed on consignment with the canal museum in Delphos. Add to that the fact that I arrived in Van Wert early enough to take advantage of a $1 pie sale at Balyeats (apple) and that I spent the night and chattered away the next morning with friends who came to the presentation and I count this as a darned good trip.