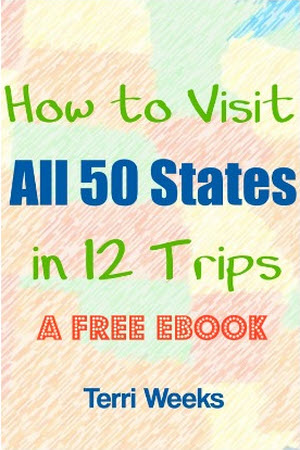 I thought of reviewing this ebook when it came out last March but it didn't happen. There were actually multiple items, including a couple of CDs, that were review candidates about that time which got pushed aside by stuff like preparations for the coming summer. By releasing this second edition, Terri Weeks combines a reminder that I missed posting a review last year along with a second chance.
Terri lives within ten miles of me, does a goodly amount of traveling, and writes a blog about it. Add to that the book she's co-written called Adventures Around Cincinnati and the travel related lecturing she does around the area and you might think it almost a given that I've met her. Not so and what at first might seem odd, might not be at all surprising once you learn that the full title of that book is Adventures Around Cincinnati: A Parent's Guide to Unique and Memorable Places to Explore with your Kids and that her blog is called Travel 50 States with Kids. I've nothing against kids, of course. I did, once upon a time, some traveling with my own and my trip journals include at least one outing with just me and a grandson. But it's an obvious fact that I seldom travel with anyone and that I travel with kids even seldomer.
But kid-friendly attractions are hardly uninteresting attractions and I've been following Weeks' blog for some time as she describes visits to quite an assortment of them. I did — and continue to — read the blog through its RSS feed but I also have an email subscription. Why email? Because signing up for email is the ticket for getting a free download of How to Visit All 50 States in 12 Trips.
The twelve trips described in the ebook are not just theoretical lines on a map. The routes are practical and mostly proven. They are the routes that the Weeks family has or will follow to taste every state in the union before the youngsters finish high school. Terri Weeks has an engineering background which I'm sure served her well when she set out some years ago to devise a plan to accomplish the family's travel goals. They are getting close. One change for the second edition is an update of "…eight states and three years to go" to "…six states and two years to go". If I understand the scoring properly, nine trips are history and three are yet in the future.
Even if you exactly share Weeks' goal of visiting all 50 states with your offspring before they finish high school, you might not want to do it in exactly twelve trips or exactly the same twelve. In fact, I imagine the chances of someone using this book as a precise blueprint for their own travels are pretty low but I'm confident that's not what Weeks intended. The twelve trips are her way of making sure her family accomplishes its goal. They provide an obvious way to organize the nice catalog of attractions which is the book's primary offering and they serve as an example of how the 50 state task can be accomplished.
For Weeks, the goal is not to simply reach each state but to actually visit each one; to experience, where possible, something unique for which a state is known. Things like the Grand Canyon in Arizona, a Mardi Gras museum in Louisiana, the Grand Ole Opry in Tennessee, Crater Lake National Park in Oregon, Yosemite National Park in California, and even the Mall of America in Minnesota.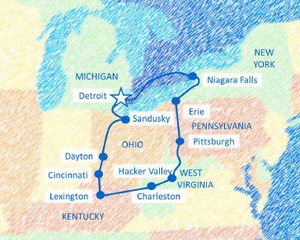 The book is not large, 40 pages, 4.5 KB. There are no detailed directions. There is a general map, like the one at left, for each trip followed by a daily itinerary. Itinerary entries are usually one-liners with any details provided through a web link. Being an ebook, How to Visit All 50 States in 12 Trips can assume some connectivity that paper books can't. That means web links for many attractions. Sometimes the links lead directly to an attraction's website and sometimes, for attractions already visited, to a Travel 50 States with Kids blog entry which often contains a link to the attraction's website along with a report on the family's visit.
As indicated, identifying various attractions is the ebook's strong suit. The trip routes and itineraries are also quite useful if only as examples for creating your own. And there is a third subtle value in the the ebook. Both it and the blog behind it serve as gentle reminders that, if there is a long term goal in your life, you will probably need some sort of plan in order to reach it. In the case of getting kids to fifty states before graduation, merely keeping score won't get it. Having just three or four states to go when the senior year rolls around sounds good unless those states are Maine, Florida, Alaska, and Hawaii.
How to Visit All 50 States in 12 Trips – Second Edition, Terri Weeks, self published, February 2014, ebook, 8.5 x 11 inches, 40 pages, free with email subscription at How to Visit All 50 Atates in 12 Trips
---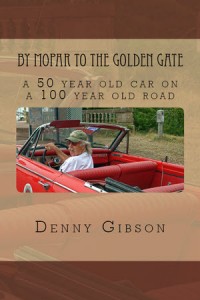 By coincidence, the first review of my own book, By Mopar to the Golden Gate, appeared yesterday. Written by Ron Warnick at Route 66 News, the very positive in depth review can be read here.