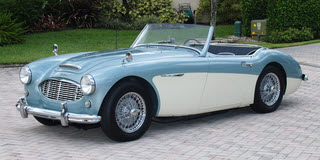 Why in the world would a couple of newly weds buy a ten year old British sports car in the middle of winter? I am, at present, as baffled as anyone though I apparently once knew the answer to that question. A month or so after our 1966 Boxing Day wedding, my bride and I purchased a 1957 Austin-Healey 100-6. The one pictured is a 1958 model but looks pretty much like our '57. This was not a play car to park next to a dependable sedan. This was our only car.
The Renault's reliability had steadily decreased until I sold it to a friend who either rebuilt or replaced the engine and drove it for quite awhile. I almost bought a 1959 Plymouth an aunt had recently replaced and actually "test drove" the car for a few weeks before acquiring the Healey. Buying the Plymouth would have been the sensible thing to do. But we were 18 and 19, I was a full time student, she was just out of high school, and we had just gotten married. Why spoil it by doing something sensible?
The Healey lasted more than a year. It was a great summer car and an OK winter car. Climbing snow covered Cincinnati hills was not its strong suit but it got around as good as many other cars of the day and it was reasonably warm in slowish city driving. Things were a little different on the open road. It helped that it had a removable hard top. It was fiberglass and not heavily insulated but was infinitely better than the cloth top. But it was a true roadster with sliding Plexiglas side curtains rather than roll up windows. At highway speed on a cold day, the heater stayed on full blast trying to keep up with the air escaping through the side curtains.
That soft top I mentioned was on the car once while I owned it. Attaching it had much more in common with raising a tent than with raising a convertible top. The hard top came off in the spring and went on in the fall. In between, with the one exception to prove that erecting the canvas top was possible, we made do with a tonneau cover and, yes, we did get wet now and then.
It was called a 2+2 with a pair of padded depressions in a shelf behind the seats. I actually remember carrying someone in those "seats" for a short distance but the shelf was much better at holding a couple bags of groceries than a couple derrieres.
The 100-6 was produced for three years. In 1956 it replaced the four-cylinder 100 which immediately became known as the 100-4. The 100-6 had a 2.6 liter six-cylinder engine and a four-speed transmission with overdrive. In 1959, it was replaced with the 2.9 liter Austin-Healey 3000 which had a rather long run through 1967.
Cars are often remembered for the misadventures they were part of and here is a story that helps me remember the Healey. For reasons not quite remembered, there was no license bracket on the front for awhile. It had been damaged somehow and repairing it had slipped entirely off my schedule. We were driving home after a visit to my parents. On state route 49, near the town of Arcanum, we passed a state trooper headed the other direction. He turned around, turned on his lights, and pulled us over. There was no "serious" issue, like speeding, but there was no front license. After checking a few things, he gave me a written warning and went on his way.
A couple of weeks later, I was back in Darke County. The low slung Healey had suffered a few scrapes and bumps on its crankcase and had developed a minor leak. I arranged to meet a high school buddy who had a welder so we — actually he — could fix the leak. The repair was accomplished and I headed home. At just about the same spot as before, that same state trooper passed the Healey with the same license plate not there. When I saw his brake lights come on, I immediately turned off on a side road and, with a few quick turns on the narrow roads, made my getaway. Satisfied that my evasive maneuvers had worked, I was starting to slow when I saw it. The road ahead was unpaved. It had not been graded for awhile. A fairly tall gravel ridge stood in its center. Before I could stop, I was plowing that gravel. Then I was oiling it.
The gravel had ripped off the recently applied weld and the crankcase was leaking much worse than it ever had before. I lost a lot of oil by the time I made it back to the main road. At a little gas station and grocery store, I bought a five gallon can of used oil. I believe farmers sometimes used used oil in slow reving equipment so it was often available for sale. The leak was not quite as bad as I feared but I still lost close to another gallon getting back to the friend's house. He had just been visiting from college and was already gone when I got there. His dad let me use the welder and I managed to plug the leak with one of the ugliest welding jobs ever. This was the first and last time anyone ever left me alone with a welder. Then I drove home and fixed the license bracket the very next day.
Although our car must have looked just like the one in the picture when new, when we had it the paint had lost its shine and there was rust. Not major visible rust but hidden and interior rust in floor pans and such. The car was never garaged while we had it and I suspect that was true of much of its life. The rust and mechanical malaise led to the Austin-Healey being replaced before the next summer rolled around.
My Wheels – Chapter 7 — 1961 Renault 4CV
---
Although this post is semi-random (I picked it from two possibilities) it appears during Cincinnati's first snow event of the year (which is kinda why I picked it) and gives me an excuse to tell a semi-related story.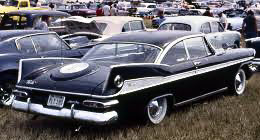 The 1959 Plymouth Fury at left is a dead ringer for the one I passed up to get the Austin-Healey. A rather spiffy ride, don't you think? On one snowy night, my new wife and I were out with a friend in my borrowed car. The snow was not deep but the big Plymouth was not doing well on the slick streets. At one point, as we attempted to climb a slight incline, the friend and I got out to push while my wife took over driving. It did not take much to get the car moving but stopping to let us back in would have left the car stuck once again. Instead, my friend and I each grabbed a fin and "skied" alongside the Plymouth to the top of the hill.