Among the many interesting pieces of information presented in Cincinnati Museum Center's most recent Brown Bag Lecture, "Cincinnati's Winter Holiday Traditions", was a listing of the city's four oldest Christmas traditions.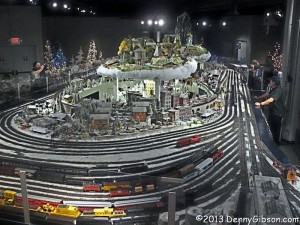 4. Duke Energy Holiday Trains – 1946
Duke Energy gave its name to the trains in 2006 when it bought Cinergy Corporation. In 2011, it gave the trains to the museum. Before Cinergy was formed in 1994, the company name was Cincinnati Gas & Electric so these trains spent most of their lives as the CG&E trains and that is still how many people think of them.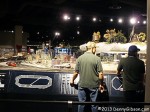 The O gauge layout was originally constructed by the Baltimore & Ohio Railroad as a training tool just prior to World War II. It came to Cincinnati in 1946 and for years was displayed in CG&E's lobby each Christmas season. Today it is the centerpiece of the Cincinnati Museum Center's Holiday Junction which includes several other model trains, the "Toys through Time" exhibit, Grif Teller railroad paintings, and more. Kids can ride a train or have a conversation with Patter & Pogie, the talking — and listening — reindeer who were a long time Christmas fixture at Pogue's department store.
Holiday Junction and the Duke Energy Holiday Trains are are inside the fee required museum but free passes are available to all Duke Energy customers.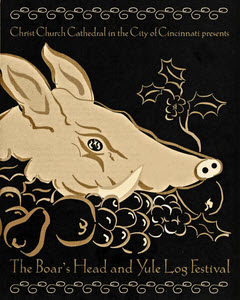 3. Boar's Head Festival – 1940
I have never attended the Boar's Head and Yule Log Festival and I won't again this year. Tickets for the free event go fast and those for this year's festival have long been gone. The first Boar's Head Festival took place in Oxford, England, in 1340 which means it had been going on exactly 600 years when Cincinnati's Christ Church Cathedral held its first. The locals have now added 70+ years of their own traditions to establish a unique event for the city. I confess to not even knowing of the festival before the lecture but, the more I learn about it, the more I want to go. There are three performances on January 4 and 5. Tickets were distributed, first-come, first-served, on December 14. Maybe I can snag one of those hot ducats next year.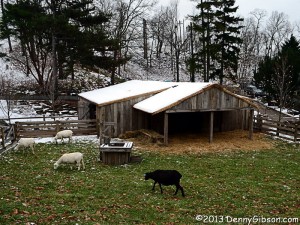 2. W & S Nativity Scene – 1939
Officially known as Western & Southern Financial Group presents the Crib of the Nativity, this Cincinnati tradition has one year on the Boar's Head Festival. Western & Southern's President, Charles F. Williams, had the crib built in 1938 for display in the company's parking lot. It went public and started the tradition during the very next Christmas season. Initially displayed in downtown's Lytle Park, it was moved to Union Terminal after the country's entry into World War II in 1941. It stayed there, a welcome sight to the train loads of GIs who passed through the station, until the war was over. It returned to Lytle Park in 1946.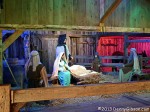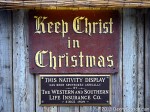 With the upheaval and shrinking of Lytle Park that came with the construction of I-71, the nativity scene moved to Eden Park in 1967. It remains there, next to Krohn Conservatory, today.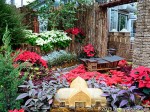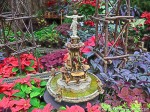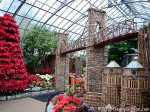 Parking and visiting the outdoor nativity scene is free. Entering the conservatory is not. The conservatory's Christmas display is not one of Cincinnati's oldest but it is one of its most beautiful. If you have parked to visit the nativity scene, you should at least consider spending the $7 to see "A Cincinnati Scenic Railway", a ton of poinsettias, and other holiday themed displays. The railway incorporates "botanical architecture" which uses "locally gathered willow and other natural materials" to build structures such as the Roebling Bridge, the Tyler Davidson Fountain, and the Christian Moerlein Lager House..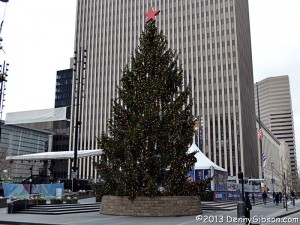 1. Fountain Square Tree – 1913/1924
According to the "Cincinnati's Winter Holiday Traditions" lecture, Cincinnatians first put a tree on Fountain Square in 1913. A large crowd had gathered for the ceremonial lighting when someone yelled "fire" and the resulting stampede caused enough injuries to keep the city from trying again until 1924. Things went much better that year and, although the fountain and the square have moved around some, a Christmas tree has stood on Fountain Square every year since.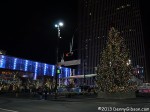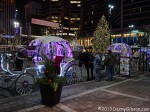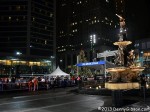 There was a snag this year when the first tree selected snapped in two at a weak spot in its trunk. A replacement was quickly obtained and the 55-foot Norway Spruce was placed on the square after a one week delay.