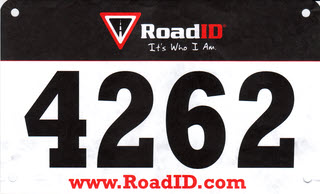 The Disabled American Veterans organization held a race Saturday. It was the inaugural running of what they called the National 5K Run/Walk/Roll/Ride. I first heard of it a few weeks ago when my friend, Dave, announced that he had signed up. Some people ran, some walked, some rolled on hand-cycles, and some rode motorcycles. Dave walked. So did I.
When the event came up in a conversation, Dave said something like "You ought to do it, too". Then I said something like "Yeah, maybe" without really meaning it but the seed was planted. l'm a firm believer in the only-if-chased concept of running. There is absolutely no way I would ever consider running any farther than the last lane of a street crossing to avoid an approaching SUV on auto-pilot. But walking is a different story. I walk quite a bit. I've always done it on road trips where I will park the car and walk around a town or park or other attraction. This summer I've been doing more of it at home and even think I feel a little deprived on days when I don't walk.
Five kilometers is about three miles; 3.106855961 to be be precise. I might walk that far a few times each week although there is usually a restaurant or bar somewhere near midpoint. I started to somewhat seriously consider doing the walk about the same time that another friend and I picked that day to take an underground Cincinnati tour we had been talking about for awhile. I assumed I couldn't do both until a week or two later when I looked at the details. Start time for the "race" was 9:00; for the tour 1:00. That was plenty of time for even sluggish old me to finish the walk, which had awards scheduled for 10:45, and get to the tour.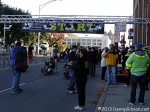 So I signed on. Dave and I were a little surprised by the size of the crowd when we arrived about a half hour before the start time. We later learned that the event had more than two thousand entrants. I registered late and in person and had picked up my stuff when I did. Dave had registered very early on line and was picking up his stuff today. An entrant's stuff consisted of a long sleeve shirt, a "bib", and four safety pins. The pins were to attach the numbered "bib", with its attached timing chip, to the shirt. Shirts were black for veterans and white for civilians. Dave's a Navy vet. I'm a civilian.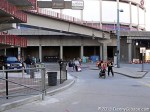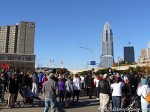 We did not have long to wait until the starting gun went off and, presumably, the serious runners up front went dashing away. Eventually the more casual crowd near us started moving and we were off. We started fairly close to the back and by the first turn had managed to work our way even closer.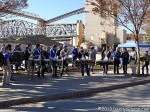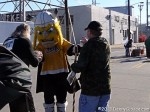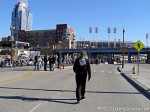 There were several bands performing along the way and we were given water at strategic spots just like real runners. Near the end, we were even cheered and encouraged just like real runners. Dave was the target of extra cheering when some in the crowd recognized him as the model for a widely used street sign of which an example can be seen to his right.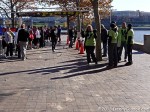 We crossed the finish line to the sound of bells and cheers from an enthusiastic group who had probably come near to dozing off during the lull that preceded us. Two bicycles had been the first to cross the line with times of 14:44 and 15:07. The first place runner had a time of 16:26. Dave and I finished 2019th & 2020th in an hour and twelve minutes. There were 2033 finishers so we were denied last place but we were close. On the other hand, we were only about 56 minutes out of first.
The cheering and applause even for old guys finishing in the 99th percentile is intended to make you feel like you accomplished something and it did. Both Dave and I have walked 5 kilometers many times so neither of us felt any great affirmation but we did feel good and it sure was fun. In years past I've attended parades and concerts and other events associated with Veterans Day (I even remember Armistice Day.) but this is the first time since being in the high school band that I have participated. Maybe I really did accomplish something after all.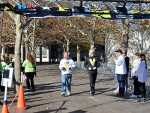 ADDENDUM 07-Nov-15: Here is a picture from the DAV website of Dave and I crossing the finish line.
---
The "Ventures Way" is, of course, walking rather than running. The Ventures first drummer had left the band and was on his way to becoming a veteran before Walk Don't Run was released but did get to perform it with them again a few years later as captured here.
---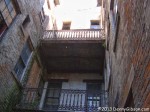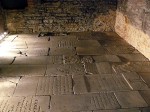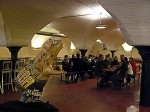 I made it to the tour in plenty of time and I thoroughly enjoyed it. It was the "Queen City Underground Tour" from American Legacy Tours. Having done other tours of Cincinnati's underground, I thought this might be something of a repeat but that was not so at all. Only the very last of the tour was familiar and by then we had been inside a 19th century tenement and an underground crypt and had been entertained and educated by a pair of knowledgeable guides. Plus, the familiar part led to the Christian Moerlein Tap Room which is hardly a bad thing.