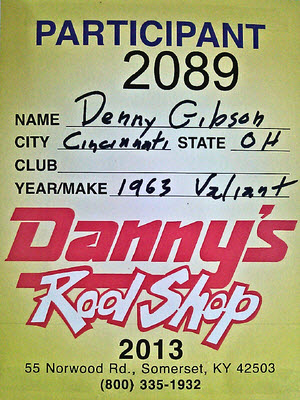 I made my first attempt to sell the Valiant this weekend. It was feeble and half-hearted and impressively unsuccessful. What I did was put the car on display in southwest Ohio's largest car show with a "For Sale" sign on it. At the end of two days, I had not a single indication of serious interest in the car but I'm neither disappointed nor particularly surprised. The whole thing was something of an experiment and I think I learned quite a bit which is essentially what experiments are for. I certainly hope I no longer own the car when next year's show rolls around but I'm pretty sure I could generate a little more interest if that were the case. I've got a somewhat better handle on the crowd and I've got a much better handle on pricing.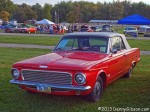 Danny's Rod Shop is a key player and gets a ton of name exposure by supplying the window tags but the Pumpkin Run Nationals is managed by Fastiques Rod & Custom, Inc., a  car club based in Owensville, Ohio. The show, which typically has 2600-2800 entries, is held in Owensville at the Clermont County Fairgrounds. This is their 38th year. I've attended before as a spectator but this was my first time as a participant. Cars must be running and registered and can be no newer than 1970. That's it. Gates open at 6:30 Friday morning and cars are waiting. The picture of the Valiant was taken about 9:30. The place seems rather full by Friday afternoon but there is another burst on Saturday morning that makes the fairgrounds seem packed.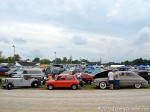 The picture at right hints at the variety of cars on display. That is an original MINI between the MG-TD and the big Packard. It is hard to identify specific cars beyond the three in the foreground but I do see a panel truck, a couple of Chevrolet hardtops from the sixties, a pickup truck, and at least one decades old sedan.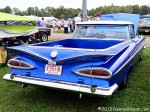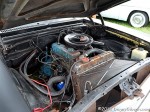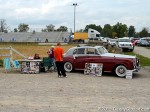 I picked these three as some of the more unusual stock cars I saw. The 1959 El Camino is beautiful as well as unusual. Then there's a 1960s era Chevrolet 4-cylinder and a 1969 Rolls Royce.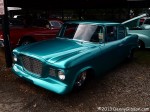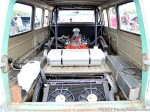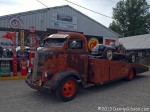 There is no shortage of variety but the Pumpkin Run is the brainchild of a hot rod club so there is a general air of performance. Among the stock entries, Muscle Cars are plentiful, and real drag and even track racers are well represented. The middle picture is of a Corvair window van based dragster with a big V8 where a bench seat once sat and electric fans where the original flat-6 once was. There were several Studebaker Lark based dragsters which I found surprising.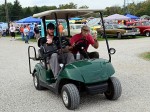 I happened to look inside that green Lark and noticed a message. Dennis Gage of the TV show My Classic Car was known to be on the grounds doing interviews and such for a show to be broadcast in January. Looks like one of those interviews just might be with the owner of the Lark. I ran across Dennis himself a bit later and got a friendly pose when I raised my camera. He was coming from the general vicinity of my car but I found no note on my front seat.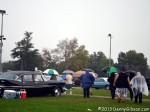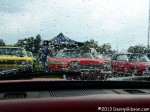 The weather on Friday was great and, although it rained a little overnight, Saturday started out just about as good. Then, a little before 2:00, some rain fell. It was short lived but so was the sunshine the followed it. Starting about 3:30, the rain became increasingly steady. I was one of the car owners who retreated to their vehicle and quite a few actually headed for the gate. That yellow car seen through my windshield is a Super Bee. There was another on my left side and a Road Runner a couple of cars beyond that. The rain wasn't too heavy and the temperature remained high so people continued looking at cars but the numbers had definitely decreased. Anyone who had a poncho or umbrella, put it to use.
Weather reports called for a stop to precipitation around 5:00. I mostly stayed in the car until, at about a quarter until 5:00, I saw clearing skies approaching the fairgrounds. With predictions of storms and heavy rain overnight and a rather wet Sunday, I decided to truncate my first (and probably only) participation in the Pumpkin Run at two days. I headed home.