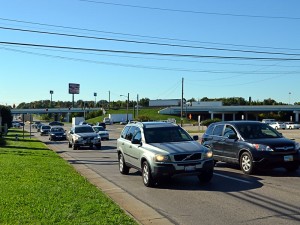 I once rode my bicycle through this intersection. Twice, technically, because I had to return, but never again. My bicycle's power plant is not the sort that delivers instant acceleration or quick sprints and it seemed that about the only thing in question was whether I got run over before or after I collapsed. Walking through it would have been even worse but I did manage to get to the "land beyond" on a few occasions by crossing each road at some distance from the intersection and being very patient. That changed this summer when pedestrian signals were installed here and at other nearby locations.
The photo shows the intersection of Mason Montgomery Road and Fields Ertel Road with I-71 overpasses in the background. I-71 exits onto Mason Montgomery Road and entry is from Fields Ertel which help make this intersection quite busy. A major project is underway to improve the flow of traffic getting on and off of the expressway at this point. It has its own website, AdvancingFieldsErtel, which tells not only about the project's components and progress but what led to it. Few, if any, of the new pedestrian signals I mentioned have anything to do with the highway project. I believe that people really are trying to make this area walkable.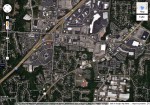 I live north of Cincinnati inside the triangle bounded by Mason Montgomery Road, Fields Ertel Road, and Montgomery Road (a.k.a. US-22/OH-3). I-71 misses the northwest corner of this triangle by roughly a hundred yards. An overhead view of the triangle can be had by clicking on the small map at left. Some signs and maps refer to Mason Montgomery Road as simply Mason Road and that is what I'm going to do in the remainder of this article.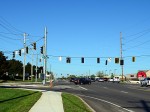 The Mason and Fields Ertel intersection is the busiest corner of the triangle but the Fields Ertel and Montgomery intersection is not far behind. That's it on the right. I once spent many minutes trying to cross Fields Ertel there before walking far from the intersection and crossing at a slightly narrower point. Mason Road essentially ends at Montgomery Road (It changes name and enters a residential area.) so that corner of the triangle isn't particularly troublesome but it does have considerable traffic as do all three of the triangle's sides.
I like to eat and I like to walk. I don't like to cook. That means that an attractive meal for me is one that I didn't cook and which, at least in fair weather, I walked to. There are several decent eateries (Fridays, Frisch's, Golden Corral, Honey Baked Ham, Pizza Tower, etc.) inside the triangle so I could somewhat satisfy my walk-to-dinner proclivities without risking life and limb but other restaurants beckoned just beyond the lines of cars.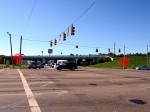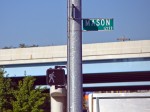 And now my walking world has exploded. I am able to escape the triangle on foot with some sense of safety. The first picture is of the Mason and Fields Ertel intersection with the new "WALK" signals circled in red. The second was taken as I began to walk across Mason Road while keeping a watchful eye on every car I passed. I can now safely reach the area northwest of the triangle where numerous restaurants, quite a few stores, and a 16 screen movie theater await. The intersection at Fields Ertel and Montgomery road can also be crossed safely and there are attractions in that direction, too. There are also crossing signals at several locations along Fields Ertel and Montgomery Roads and to help with crossing Mason Road north of Fields Ertel but none where it borders the triangle. More on that later.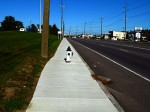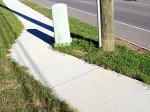 Sidewalks help increase an area's walkability almost as much as pedestrian signals. The west side of Mason Road has long had a sidewalk north  of I-71. Montgomery Road got one on its north side, in the area of the triangle, this summer. It is a fact that the sidewalk on Montgomery Road was an afterthought and it sometimes shows. The need to curve around existing infrastructure, as in the first picture is easily understood. The reason behind the long bulge around the fire hydrant, or maybe the drain, is much less clear. It doesn't matter, though, whether they curve, bulge, or run perfectly straight, I really appreciate the sidewalks. A map at the end of the Symmes Township Sidewalk Plan shows that sidewalks have been proposed but not funded for parts of Mason and Fields Ertel Roads. I'll be very happy when that happens.
Incidentally, although it isn't precisely true, the northern boundary of Hamilton County is often considered to be Fields Ertel Road. That means that all these improvements are split between two counties. The local entities responsible are Symmes Township in Hamilton County and Deerfield Township in Warren County. I suppose that makes things more difficult in some ways but it may also make things more evenhanded.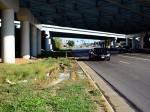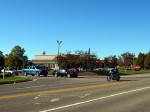 As things now stand, only two danger zones remain along my various popular paths. One is on Mason Road beneath the I-71 overpasses. It seems to never drain completely and there is no sidewalk. Although I almost never see vehicles there, the pattern of ruts in the mud is constantly changing. Maybe people pull over there every night while I sleep. Because of the standing water and squishy mud, walking in the roadway is more or less required here. Synchronizing the dash to the next dry spot with an empty curb lane helps but is challenging. I'm hoping that this gets improved somehow when the nearby ramp project is completed. The other danger zone is where I cross Mason Road to reach the building in the second picture. The line of cars in the picture have come from an office park and are waiting to turn left. Because of the traffic on Mason road, turning left can take a long time and the line rarely goes empty. This means that anyone attempting to cross the road in front of the building will very likely have to deal with a car from the side street whenever there is an opening in the Mason Road traffic. I handle the problem by crossing at about the point where the picture was taken so that those left turning cars are not an issue. Why would I go to this much trouble to reach that building? It's called Flippdaddy's with the subtitle "Burgers & Beer". Any other questions?