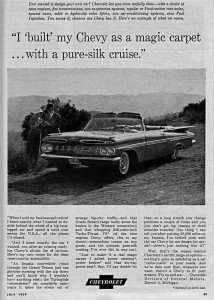 The advertisement at right is the fourth one on my wall and for the first time I really am talking about exactly the car pictured in the ad. The twist this time is that it was only half mine. My sister is almost exactly two years younger than me so she was turning sixteen when I was graduating. Having a car wasn't quite as important for girls as for boys but it was still a good thing and that was especially true for kids, like us, living outside of town. We had each come into a few hundred dollars and I convinced her that we should combine resources and get a really cool car. We'd share it for the rest of the summer then, when I headed off for college in the fall, it would be all hers except for the occasional weekend when I came home for a visit. We looked at quite a few cars, including 1958 and '59 four passenger Thunderbirds, before settling on a white 1959 Impala convertible. I have the number $750 stuck in my head and I imagine that's what we each contributed. It would have sold for something over $3500 when it was new and $1500 for the six year old  car sounds about right.
The 1959 Chevrolet is one of my all time favorite automobiles and I really don't believe it is because I once owned half of one. U.S. auto designers went crazy in the 1950s. Fins were in and they just kept getting taller until culminating in the towering blades on the 1959 Cadillac. Those ridiculous appendages are one of the most widely recognized automobile features ever and scream 1950s louder than almost anything else. The Chevy's fins were no less extreme but, at least in my opinion, they had a lot more style. The Caddy was a fearsome projectile; The Chevy a graceful bird. Sorry. The prose is getting almost as silly as the fins but the truth is I like the smoothly arched fins that Chevrolet sported in 1959. The car looked like something an artist had created without constantly being told to get rid of these, add more of those, and straighten out that. The illusion was gone the next year. Horizontal wings were still around on the 1960 model but they were a crude caricature of those of '59; Straight lines replaced the graceful arches and boring round lenses from the parts bin replaced the big red cat eye tail lights.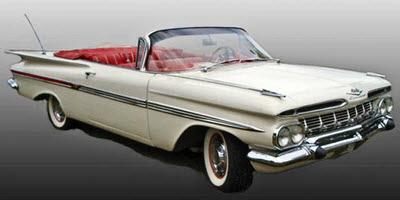 Getting back to my, I mean our, Chevy, you don't have to imagine anything different from the car in the photo. That's not our car but it could be. White with red interior and black top. 283 V8 with Powerglide automatic transmission. As we had planned, the car stayed with my sister while I lived in an on campus dormitory in Cincinnati — mostly. I did take to car with me for the last few weeks of the school year and I no doubt felt like one really cool dude. I don't recall specific issues but the joint ownership thing came to an end that summer. For one thing, I decided I wanted a car with me for the next school year. I'm sure I didn't have the money to buy out my sister and going with something that got a little better gas mileage seemed like a good idea. My sister became sole owner of the Impala but not its sole driver. I never did know all the details but there was at least one wreck when someone else was driving. I don't believe the car was actually totaled but there was enough damage that the car went off to a new home.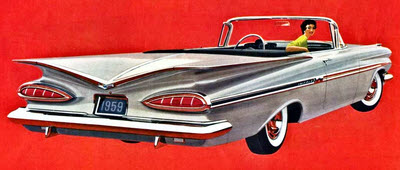 I've always liked this publicity picture. It emphasizes the car's unique appearance and offers a hint at what it might be like in the front seat. I remember what it was like in the front seat. The hood was far from short — this was a full size American cruiser — but it could seem that way by comparison with the rest of the car. With the top down, the view in the mirror was of a rear deck that reached to the horizon and extended all the way across it.