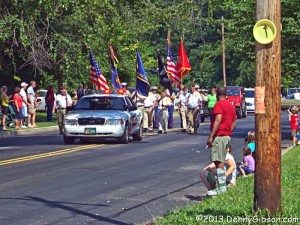 Saturday's cardboard boat race at New Richmond would have made a perfect topic for this week's Sunday morning post except that the big tennis match already had the spot filled. But the mixture of creativity and calamity at the big race is too good to ignore so the blog gets two posts today. This year, for the first time ever, I made it in time for the parade.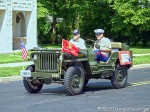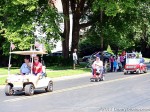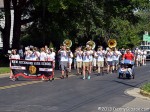 There were quite a few "normal" classic cars but I really liked the old Jeep. Then there was a large number of decorated golf carts, several horses, the New Richmond Marching Lions, and miscellaneous.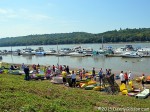 Following the parade, I strolled through town looking over some of this year's racers. I did not get an entry count but there was clearly no shortage of people ready to go floating down the Ohio on various cardboard based contrivances for the Twenty-First International Cardboard Boat Regatta. For many, me included, this is the center piece of New Richmond's River Days.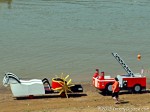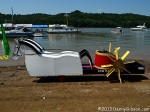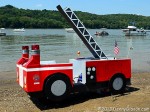 I did, of course, intend to go down to the river's edge at some point but these two beauties, which turned out to be the only entries in the "Mechanical Advantage" class really tugged on me. The business end of the "Row Man Chariot" looks like this.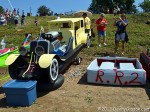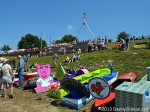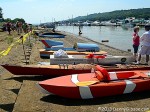 I'm hoping these pre-race photos provide some sense of the variety of watercraft taking part in the race. The picture of the "Moon Shiner's Express" next to "R.R.2" illustrates that there are sometimes differing opinions as to how much effort should go into racer construction.
Some in-race photos: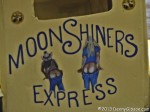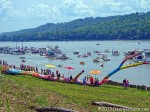 To close things out, here's a picture of the Log Ness Monster, which I captured in progress a couple of weeks ago, and a parting shot of the "Moon Shiner's Express".
My posts on the 2010 and 2011 Cardboard Boat Regattas might also be of interest. I was out of town in 2012.