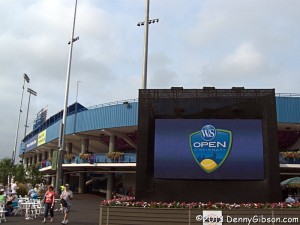 Cincinnati is home to "the oldest tennis tournament in the United States played in its original city". What was once called the Cincinnati Masters began in 1899. Its current name is the Western & Southern Open. It's a big deal with the world's top ranked players, both men and women, competing. Despite that "original city" statement, the tournament site is no longer within the city limits of Cincinnati. It has moved several times in its 114 years and is now a little north of the big city near Kings Island Amusement Park and the smaller city of Mason. It has been there since 1979. During all of those thirty four years, I have lived no farther away than six miles and as near as three. This year I decided to see what was responsible for those annual traffic jams.
Play began this year with some qualifying matches on Saturday, August 10. Finals for both men and women take place today, August 18. I went Tuesday when things were interesting but not yet at fever pitch. The stadium behind the big TV screen in the picture at the top of this article, is Center Court. There are a total of sixteen courts at the Lindner Family Tennis Center including three smaller stadiums. All Center Court seating is reserved but a ticket there permits free run of all courts where most seating is open. One reason that Center Court is half empty in my pictures is that there is a lot going on and some people are watching matches on other courts. I suspect, though, that a bigger reason is that many with full series tickets simply skip the earlier matches.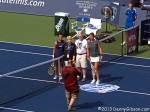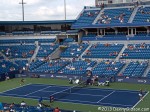 Separate tickets are sold for day and evening sessions. My day session ticket entitled me to watch three matches at Center Court. The evening session would include two Center Court matches. I watched my first big time tennis match from beginning to end. It turned out to be the only one I would do that with. Through some mechanism that I never got around to investigating, the couple at the center of the first picture had won the right to do the pre-match coin flip. Lots of similar honors could be won such as as the on field seat occupied by a six year old boy during player warm-ups. The player on the couple's left (viewer's right) is Victoria Azarenka, the world's number 2 ranked woman player. Her opponent is Vania King who won qualifying matches on Saturday and Sunday to get here. Azarenka easily took the first set but barely won the second in a tiebreak.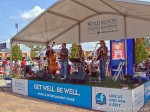 With the match over in two sets, I figured there would be a fair amount of time before the next one and left the stadium to look around. This is Hickory Robot, who I'd actually been hearing while inside the stadium and who I now could see as well as hear.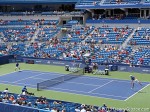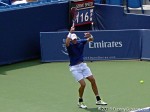 By the time I got back to my seat, the match between John Isner and Florian Mayer was in progress. Isner had been in the news recently and, although I did not remember his name, I did remember the news. Isner is the top ranked U.S. player and recently dropped from 20 to 22 resulting in there being no male from the USA in the top twenty for the first time since ATP rankings began in 1973. The current 22 did in the current 50 in two quick sets.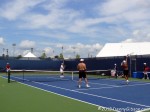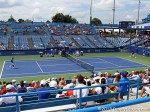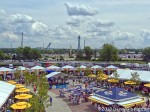 I took another break but before leaving the stadium, climbed to the last row of seats to take a look out over the complex. That's the one-third scale Eiffel Tower at Kings Island in the background. Then I caught a little of the action between Mikhail Youzhny and Ernests Gulbis on the Grandstand Court and what was apparently a doubles match between shirts and skins on another court. In reality, I think that shirts and skins thing was just practice.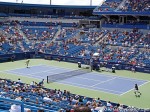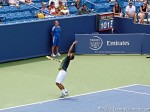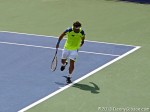 The third match at Center Court was pretty impressive. It took all three sets, including a tiebreak in the first set, for number 3 ranked David Ferrer to defeat number 102 Ryan Harrison. I knew Ferrer's ranking from the schedule but had no idea what Harrison's rank was. Had I realized the size of the disparity, I'd have been even more impressed with Harrison's full court play and serves like this.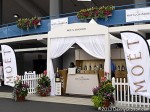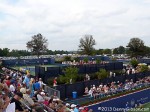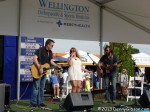 I selected the session I attended purely on convenience and felt lucky is seeing the number 2 ranked female, number 3 ranked male, and highest ranked American male in my three matches. That might not be luck, though. It may be that the level of talent at this tournament almost guarantees seeing players of that caliber at every session. As I headed out, I paused briefly to listen to Kelly Thomas and the Pickups and watch a bit of the action at Court 3. The second picture was taken from Court 3 showing courts 5 and 6 and illustrating just how much tennis is going on here. The last picture is of the Moet & Chandon stand by Center Court. Moet & Chandon is the official champagne of the tournament. Up in my old neighborhood, Greenville, Ohio, has hosted the World Horseshoe Pitching Championships on several occasions, most recently in 1999. I am sure they will be back someday and do not believe they have yet selected an official champagne. There lies opportunity.
At this article's Sunday morning publication, the matches I watched on Tuesday are ancient history but two of the three players I saw win are still playing. Victoria Azarenka, winner of the first professional tennis match I ever saw, won again on Thursday , Friday, and Saturday and will face number 1 ranked Serena Williams in the WTA finals this afternoon. The winner of that second match, John Isner, is also playing today. He is pitted against Rafael Nadal for the championship after a march to the finals that included a victory over number 1 ranked  Novak Djokovic. Win or lose, I'm guessing that the next top twenty released will once again include an American male. David Ferrer, the third winner I watched on Tuesday, was eliminated on Thursday.