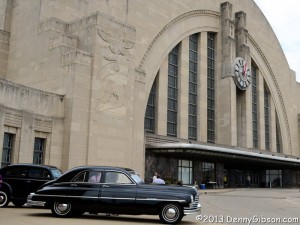 Cincinnati Museum Center held its first "1940's Day" in 2011. It became "1940's Weekend" in 2012 and is again a two day (Aug 10 & 11) event this year. The Museum Center occupies Union Terminal which saw its heaviest use in the 1940s. It opened in1933 with a capacity of 17,000 passengers per day; A number that not only seemed adequate but, with rail travel already on the decline, major overkill. It was World War II, of course, that changed that. The terminal became a hub for the movement of troops and as many as 34,000 passengers, twice as many as it was designed for, passed through it daily.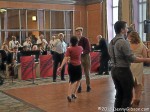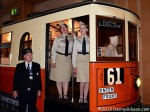 Though it doesn't completely ignore them, "1940's Weekend" doesn't focus on the horrors and hardships of the war years but on the bright spots they contained and the brighter years that followed. Music figured into many of the bright spots both then and now. The Jump 'n' Jive Show Band and several guest vocalists kept energetic attendees jumping and the Sweet and Lows roamed the building with their wonderful harmonies. The picture shows an "on location" performance of The Trolley Song (a.k.a. Clang Clang Clang went the Trolley).  The Sweet and Lows perform both days but the Jump 'n' Jive Show Band gives way to the P & G Big Band on Sunday.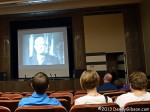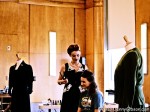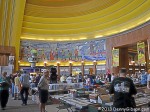 The rotunda was filled with vendors of, mostly, railroad memorabilia and there were demonstrations of some of the grooming procedures of the day. The theater showed newsreels that were post war or at least post V-E Day. The picture I've posted is of General Eisenhower praising the rank and file members of every military branch for their war contributions. I also attended two live presentations in the theater.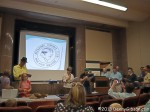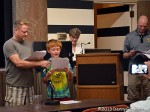 The first was a recreation of an episode of the Seckatary Hawkins radio program. Seckatary Hawkins was the creation of Covington, Kentucky, native Robert Franc Schulkers. The mystery solving character first appeared in 1918 in the Cincinnati Enquirer then in novels and a radio program. Initially the show was done in Cincinnati by Schulkers and friends and family but it soon moved to Chicago where professional actors filled the roles. Following the presentation of a little history, a volunteer cast was assembled and a fine performance delivered. The once huge Seckatary Hawkins Fair and Square club has been revived and you can join for free. I did.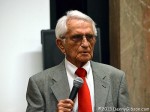 The second presentation stepped away from music and laughter. For the first time, each day of the weekend will feature a Holocaust survivor presenting their own story. Today's speaker was Werner Coppel who had been sent to Auschwitz-Buna as a teenager. He subsequently escaped during a death march. I have seen movies and read books and have had other personal Holocaust stories told to me directly but none more insightful or delivered as articulately as what I heard today. Calling it a highlight may seem strange but that's what it was for me. There is a short video of a previous Werner Coppel talk here. Henry Fenichel will share his story on Sunday. He can be seen in a video here.