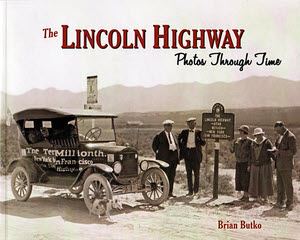 I was hesitant to post a review of this book because some of those "Photos Through Time" are mine but I decided that it would be a bad thing only if I rave about how marvelous the book is. No harm in simply describing it, right? So here are the facts.
The Lincoln Highway: Photos Through Time was created for the Lincoln Highway Association as part of its centennial celebration. One of the most visible parts of that celebration was the pair of car tours traveling the Lincoln Highway from its two ends to a meeting in the middle. A copy of the book was part of the tour package and it is also available for sale exclusively through the Lincoln Highway Trading Post.
It's a sampler. Its purpose is to give an overview of a century of Lincoln Highway. It is not a guide book or a scholarly history book. It does not contain pictures of every scenic spot along the road or every notable building or every key association member. It does, however, contain a whole bunch of each of those.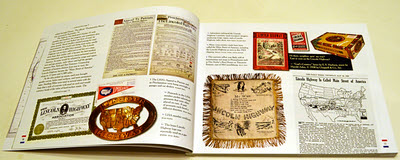 It is organized neither geographically nor chronologically. The first section following the foreword is titled "History". Here, among pictures of collectibles and artifacts, Butko gives a very brief history of the road's birth and short life. It is enough to give someone who knows little or nothing about the Lincoln Highway a starting point and someone who knows everything a quick refresher on key dates and events. It is a stripped down but adequate introduction to the pictures that follow.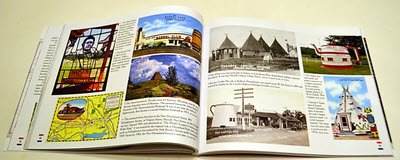 Those pictures are organized by their subjects. Butko identifies ten things that comprise the Lincoln Highway and gives each one a chapter. They are "People", "Gas", "Food", "Lodging", "Vehicles", "Attractions", "Signs", "Markers", "Bridges", and "Roads". The chapters are themselves samplers. Historic images from postcards and other sources are combined with modern photographs. Images of things along the road, which is every chapter other than "People", are from locations spread over the road's entire length.
The sources of the photos are pretty diverse, too. Butko lists more than fifty contributors. He supplied a large number of images himself and, at a presentation at the Centennial Celebration in Kearney, Nebraska, he singled out Russell Rein, Jeff Blair, and me as next in number of contributions. Many of the historic images came from Russell's huge collection. Jeff and I are both amateurs who happened to be the the right place fairly often but our pictures get to appear alongside stuff from real pros like Michael Williamson, Drake Hokanson, Rick Pisio, Shellee Graham, and Jim Ross and Brian has made sure they all look as good as possible.
I described the "History" chapter of having value for two very different audiences. Maybe that's true of the whole book. Most of its first recipients, members of those centennial tours, are probably somewhat familiar with almost everything in the book. For them and others like them, the book might be a memory booster or a chance to see an image of something they've only heard about. On the other hand, there is a large group of people who ask "What's that?" when hearing of the Lincoln Highway. Flipping through the pages provides glimpses of what's there today and some of what was there in times long past. Turn the pages slowly and read all the captions for an even better answer to the question.
The Lincoln Highway, Photos Through Time, Brian Butko, Lincoln Highway Association, 2013, paperback, 10 x 8 inches, 136 pages, ISBN 978-0-9892080-0-0
Available at Lincoln Highway Trading Post.