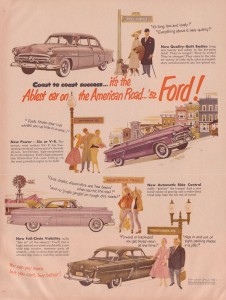 The fellow who drove my Mercury in that demolition derby was named Terry. He lived in the same town as my grandparents and had been a frequent passenger on the J. C. Higgins bicycle with the pseudo-fins on the carrier. When we got a little older, I was a frequent passenger on the back of his Zundapp motorcycle and we were both frequent passengers in each other's cars. In Terry's case that was a 1952 Ford.
Through much of high school, Terry worked in a filling station pumping gas. He got paid a little money but we all know that the real reason was so he had a place to work on his car. Unlike me, Terry was meticulous. He rebuilt and repainted the flathead V8. He sanded and taped the car and worked out a deal to get it painted. He installed new seat covers and added seat belts; Not because they were required — they weren't — but because they were cool and a good idea. He was pretty much at the end of his project list and had his sights on another car when the Mercury started worrying me a little. I don't recall what it was that Terry replaced the Ford with but I replaced the Mercury with the Ford. This was the car I drove through my senior year and I think I may have sold it to the same guy I sold the Whizzer to. I'm not entirely sure of that but I do know it's the car I loaned him when I went riding on the Whizzer the summer after graduation.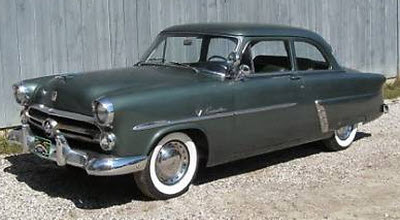 Imagine the car in this picture with dark blue paint and baby moon hub caps and you'll have something close to what I was driving in the spring of 1965. Besides two doors, it had dual two-barrels on an Offenhauser manifold, dual points in a Mallory distributor, and dual exhausts. It wasn't particularly fast by 1965 standards but its description sounded fast.