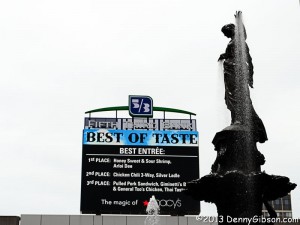 At 35 years of age, Taste of Cincinnati is "the nation's longest running culinary arts festival". It started as a one day affair in 1979 but within just a couple of years had grown to two. Since 1988 it has filled the entire three day weekend of Memorial Day with food, drink, and entertainment. When it expanded to three days, it moved from Piatt Park (Garfield Place) to Central Parkway. Since 2007, its home has been several blocks of Fifth Street around Fountain Square.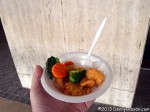 My attendance has been spotty but when I do go I sort of target the winners and I did a pretty good job of that this year. At left is this year's Best Entree, a very tasty Honey Sweet & Sour Shrimp from Arloi Dee. It was preceded by the Best Appetizer, Thai Taste's Crab Rangoon. I'd also try the Best Dessert but that would be later.
Walking between the rows of booths exposed me to all sorts of tantalizing aromas and sights and I yielded to a Third Place Pulled Pork Sandwich from Giminetti's Bakery. Third place is pretty impressive and it tasted mighty fine but, largely because of what I came to next, I didn't really need it.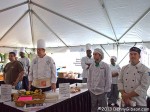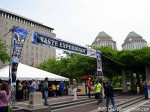 What I came to next was the Taste Experience. New this year, the Experience features some of the area's top tier restaurants along with Les Chefs de Cuisine, the regional chapter of the American Culinary Federation. The restaurants generally do three hour stints while Les Chefs are there through the full weekend. I decided to try the Rigatoni Bolognese being offered by Palomino for $3 but, when told I could have it and the Pear Bread Pudding for $5, I just said yes. Considering the ladies doing the serving, it's surprising I didn't go for ten of each.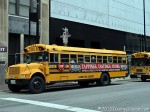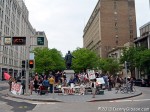 Shortly after arriving, I had registered for a Christian Moerlein brewery tour. As tour time neared, I returned to Fountain Square to board the shuttle. On the way to the brewery, we passed Piatt Park, site of the first nine Tastes, which was occupied today by the March Against Monsanto.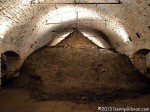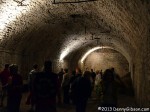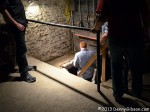 I had expected a tour of the rather new Moerlein production facilities so was surprised to learn that the tour involved the lagering cellars beneath the brewery. The building now occupied by Moerlein was home to the Kaufmann Brewery before prohibition did it in. I've been here before but it's always interesting to visit the massive hand dug cellars and see what several decades of use as a trash bin produces.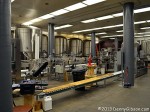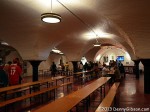 Though there really wasn't a tour, someone was on hand in the brewing area to answer questions. The taproom officially opened today and will be in operation regularly on weekends.
It always thought it a little embarrassing to attend a "taste" event in a city that was once a leader in beer production — and consumption — and find nothing but the likes of Budweiser and Miller. Christian Moerlein and owner Greg Hardman have changed that in a big way. Moerlein is a presenting sponsor of this year's event and Moerlein booths were plentiful but there was no monopoly. Miller and Bud were there and so were folks like Rivertown, Great Lakes, and Bells.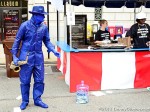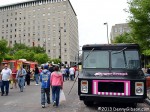 After the tour, I returned to the festival area for two specific reasons. Food trucks have become increasingly popular in the area. Taste of Cincinnati added a Food Truck Alley this year and that's something I hadn't yet seen. And then there was that Best of Taste dessert. There were definitely some inviting food trucks in the "alley" but I was saving what little room I had left for the Vanilla Bourbon Bread Pudding at Blue Wisp. A color coded living statue made the place easy to find and the excellent bread pudding was the perfect finish to a day of epicurean delights.