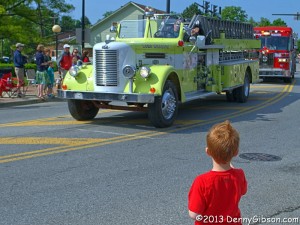 Cincinnati is my mailing address though
I definitely do not live within the city limits. The area where I live is governed by township trustees and not inside any city limits at all. The city of Mason is the closest and people even sometimes speak of where I live as "the Mason area". I've been to a few Mason festivals and such but I don't make a habit of it and I don't consider my self a Masonite. When the subject of Memorial Day parades came up and a friend mentioned that Mason had one, it struck me that I'd never been and that it was where I ought to go this year.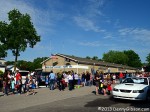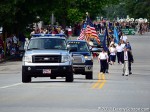 That turned out to be easier said than done. The actual attending was easy enough but finding out when and where was a real challenge. Every town in the area seemed to have at least one Memorial Day related event on every news site's calendar — except Mason. The friend who had first mentioned the parade eventually came up with the time and route but I've no idea from where and the information was accompanied with, "I swear, it's like they don't want people to know about it!" Armed with the hard earned information, I made it in time to walk to the staging area and make it back to a big bend in the route before step-off time.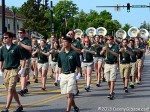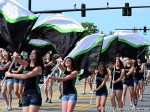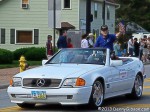 The parade had Grand Marshalls (more on that later), twirling flags, and a marching band…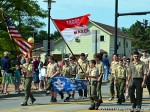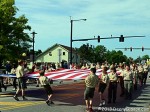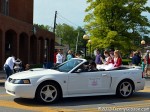 …lots of Girl and Boy Scouts — including one pretty big group carrying a really big flag — and beauty queens.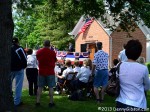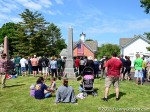 A sizable portion of the crowd, including me, followed the parade to Rose Hill Cemetery where a few ceremonies were scheduled. On the way we passed a fellow leaning back and watching the parade with a WW II veteran's cap on his head. Someone a few spots in front of me reached out to shake his hand and say thank you. I was one of several people who took the cue and did the same. Yes, I know the difference between Veterans Day and Memorial Day and I sometimes chastise those who don't. But most, if not all, of these thank yous were personal and exempt from any holiday protocol and they're all too rare.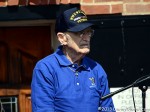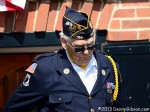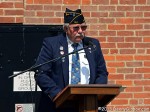 Today's parade had three Grand Marshalls. Frank Weishaupt, who was in the white Mercedes and is in the first picture, represented World War II veterans. The next picture is of Frank Huffman, Jr., who fought in Korea. The third picture is of John Looker who served in Vietnam and who was also today's key note speaker. John was wounded more than once. On the day that he received his last and worst wound, eleven men in his unit were killed. Most of his speech did not even reference his own experiences but he ended by reciting the names of those eleven men. Personal? Yes. Appropriate? Very.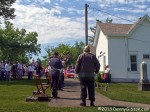 When the speeches were over, two women came forward and placed wreaths on waiting stands. Seven uniformed men, who had been sitting to the side, then stood and fired three volleys as an eighth gave the commands. When they were done, a trumpeter standing next to them played taps as another, many years his junior, stood apart and echoed each note just a couple of seconds later. A benediction followed and brought things to a close. With my memory well focused, I walked back to town and to my car.
---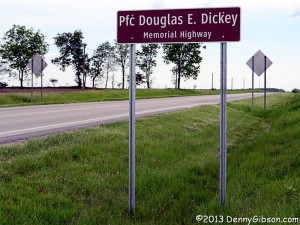 Doug Dickey was a high school classmate of mine who joined the Marines not long after graduation. In March of 1967 he gave his life to protect his comrades and for that was awarded the Congressional Medal of Honor. The citation is here. One of my recent trip journals included a photo of his inscription on the Medal of Honor Memorial in Indianapolis. On March 22 of this year, a portion of Ohio Route 47 was designated as the Pfc. Douglas E. Dickey Memorial Highway and just over a week ago, on May 18, signs marking the highway were unveiled. An article on the unveiling is here.