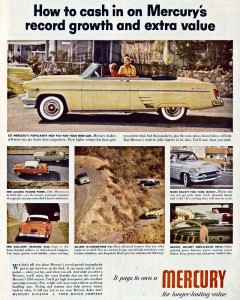 I have magazine ads for the first four cars I owned hanging on my wall. The '53 Chevy ad in the previous chapter is one, this '54 Mercury ad is the second, and there are two more. My second car looked just like those in the ad except that it was a two door sedan rather than a convertible, hardtop, or a cool Sun Valley model with the see through roof, and it wasn't the color of any of them. Somewhere along the line it had been shaved and painted a dark green. Shaving meant removing chrome trim and such and serious customizers might even remove door handles and replace them with hidden latches or buttons. My car still had door handles but not much else. The bit whose absence was most noticeable was the big chunk of chrome that imitated a large hood scoop. I've found plenty of pictures of 1954 Mercurys with shaved doors and a few with the fake scoop turned into something functional but none with the front edge of the bump simply filled in and I've found no pictures of my own car..
The mild customizing left the hood with what resembled a large "power bulge". In a sense, that might not have been entirely misleading. 1954 was the first year for Ford and Mercury overhead valve V8s and the 161 horsepower was a pretty big step up from the previous year's 125 HP flathead. Of course by the time it reached me, the big bump on the old car wasn't scaring anybody. The most basic 1964 Mercury produced 250 HP and 425 HP was available if you wanted it.
The transmission was a three speed manual. It came to me with the shift lever on the column but I soon installed a very cheap and very used floor shifter. There wasn't enough room to install the stock shifter properly so I had to put some pieces in upside down. I eventually cut things down so that I could correct it but I didn't rush. Driving around with a reversed shift pattern was actually kind of fun.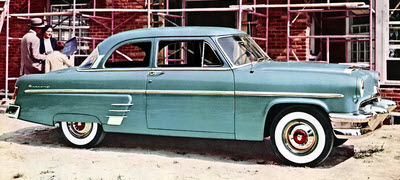 When new, my car probably resembled the one at left. It never really did look all that bad and, unlike the Chevy before it, its engine just kept on going. But things were different underneath. I owned the car for less than a year and during that time the rear end lowered itself by a couple of inches due to rusting suspension. The floor pans had similar issues and the driver's seat developed a noticeable rearward rake. I'm certain it was preparing to eject me downward at some point.
The Mercury met its end at an Eldora Speedway demolition derby. My generally permissive but very sensible Dad would not sign a release for me to drive the car so that honor went to a friend who had already turned eighteen. Despite getting stuck in first gear and ending up immobilized, the car's engine was still running at the end of the day. I even sold it to some guy for $5 to put in another car. But all of the derby cars were hauled away before he had a chance to retrieve it and I had to give him his money back.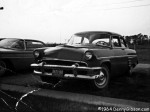 UPDATE 26-AUG-2013: Eureka! I found a picture of my Merc. It's dated May 1964 and includes the bonus of my Dad's 1960 Oldsmobile 2 door hardtop (and one of the best looking cars ever built) in the background.