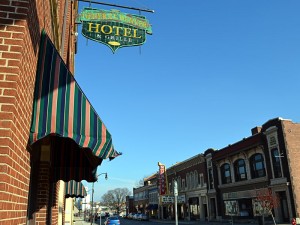 I live about thirty miles from Wilmington, Ohio. It's where my daughter lives as do some very close friends. The nearness of my own bed means there's hardly ever a reason for me to spend the night there and the willingness of friends and family to put me up means there's really no need to resort to commercial lodging in any case. In fact, when I first mentioned I that intended to spend a night at the General Denver Hotel, I was met with incredulity. Why would anyone, I was asked, want to stay in that old place when they could stay in a nice warm no-cost bed just a few blocks away? Fortunately, they know me well enough that there wasn't a big fight when I explained that I wanted to stay there precisely because it was such an "old place". I did realize, however, that the warmness of the available bed was stressed because my friend's parents had once nearly frozen while staying at the GDH and that the temperature of my room would be a hot topic, so to speak.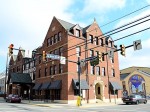 I've mentioned the General Denver in this blog before. It's where I've eaten, in addition to several other meals, my last four Thanksgiving dinners. I wrote of the one in 2011. It was built in 1928 by Matthew Denver who named it for his father, James Denver. James was born in Virginia and seems to have dropped off his parents, and eventually his own offspring, in Wilmington while he went out west to became the Governor of the Kansas Territory, a Civil War General, and enough other high profile things to warrant having the city of Denver, Colorado, named after him.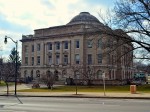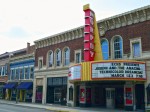 The General Denver Hotel was certainly a high toned place when it opened but it wasn't alone. The ten year old Murphy Theater stood across the street and the nine year old courthouse was barely a block away. The courthouse and theater had cost $300,000 and $250,000 respectively. It was a pretty classy neighborhood and still is. All three buildings remain in use today. In fact, it was an event at the Murphy that allowed me to finally justify a night at the Denver on Saturday. Lisa Biales, who I've also mentioned in this blog, performed there as a New Lyceum Circuit artist.
The guy who the Murphy's named after was a pretty high profile fellow too but he built the theater himself rather than waiting for the next generation to do it. Charles Murphy was born in Wilmington. He worked for the Cincinnati Enquirer and Times-Star newspapers and the New York Giants baseball team before becoming a team owner himself. The Chicago Cubs were his from 1906 through 1913. The Cubs have won exactly two World Series in their long history. Both — 1907 and 1908 — were on Murphy's watch.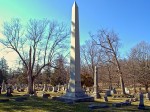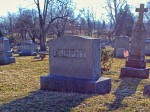 Matt and Jim and Chuck are still in town. I stopped by Sugar Grove Cemetery to see them before checking in to the hotel. There are large family markers — the Denvers have a truly impressive Washington Monument style obelisk — surrounded by smaller individual ones. Finding them took some luck in addition to the FindAGrave clues but I could now be a guide if the need ever arises.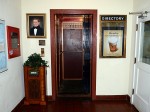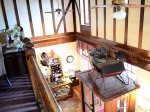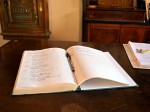 Checking into the General Denver involved signing a real register. It's hard for me to believe that I've never signed one before but I certainly can't remember ever doing it. My friend, John, met me in the bar and, although I did eat dinner there and had good intentions, lively conversation made me forget to take a picture. I did get a picture of breakfast. I had the Denver Bake which is simply a casserole version of a Denver omelet. It seemed super appropriate to eat, as I Tweeted at the time, a Denver omelet in the hotel named for the man that the city that the omelet was named after was named after. Both meals were good and the from-the-menu breakfast is included with the room. That elevator is the original with manual controls that must be operated by a trained professional (i.e., essentially any member of the hotel staff). I took a ride before I left and found it very smooth. Like most hotels more than a few years old, the The General Denver is reportedly haunted and I've mentioned the heating problems of the past. I saw neither ghosts nor frost during my stay and thought my room rather comfortable.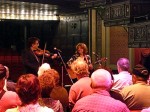 The bartender had suggested that, if the concert audience was small enough, it might be placed entirely on stage as had been recently done at another show. I didn't give it much thought and John and I walked across the street as show time neared with me thinking we would simply take our reserved seats. The bartender's prediction had indeed come true so our last minute arrival put us in the last rather than the first row. That was hardly a problem, though, as the last row on the stage put us at least as close to Lisa and violinist Doug Hamilton as the front row on the floor would have and the setting was clearly much more intimate. Lisa was just getting over a cold she had been fighting for several days but you would not have known that from her voice which was spot on. I think this was probably the first time I've seen just the two of them perform which may explain why Doug sang a bit more than I'm used to. Nice addition. Of course, both handled their instruments masterfully and the duo delivered two great sounding sets separated by a short break. Anyone with even slightly sharp eyes may have noticed that Lisa Biales is not listed on the marquee in my picture of the theater. That's because I didn't get around to taking the picture until Sunday morning after the sign had been changed. However, her name can be seen on an enlarged section of the photo at the beginning of this article.