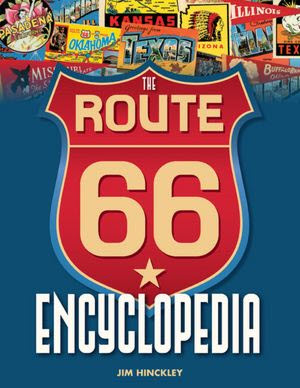 E-N-C-Y-C-L-O-P-E-D-I-A
I can't look at this book without hearing Jiminy Cricket singing. I've never read an entire encyclopedia (Including this one — yet) but thanks to Pinocchio's little bitty buddy, I can spell the word.
I'll confess to being a little leery every time I hear of a new Route 66 book. How many books does one road need? I think I was doubly leery of this ambitious project because, as Jiminy says, an encyclopedia contains "everything from A clear down through Z" and that's a tall order. Well, Jiminy… I mean Jim seems to have done a pretty good job covering the alphabet and I've once again discovered that Route 66 needed at least one more book.
The encyclopedia made a good impression before I ever read a word. It's a fairly large hardback with full color glossy pages. The book's first page folds out to present a three panel map of the entire road lined with photos and images from postcards, maps, and brochures. It is well illustrated throughout with modern photographs from Jim and wife Judy and lots of historic images from collectors Joe Sonderman, Steve Rider, and Mike Ward. It looks like Rider, at least, also contributed some modern photos. I probably ought to mention that I personally know all those guys and Jim, too, but I don't believe I owe any of them money.
As might be expected, the entries are in alphabetical order and the starting page of each letter can be determined from the table of contents. Only 'X' is a no show. 'Q' and 'Z' get one page each and 'C' gets thirty. The rest get something in between. There is a large letter at the outer top corner of each page to further help with locating topics. There is also an index but it is a bit unusual, at least in my experience. Rather than a single alphabetical list, there are sub-lists for people, places (further divided by state), other, and publications  It's quite usable but it seems like it could get awkward if there were many more divisions or longer lists.
I expected to encounter some new stuff here and I certainly did. The book starts and ends with things I'd not heard of: Missouri's Abbylee Motel and New Mexico's Zuzax trading post. There are plenty more in between. Among the many entries that weren't at all familiar to me are quite a few defunct businesses such as Drumm's Auto Court in Arizona and the Premiere Motel in New Mexico, several vanished communities including Des Peres, MO,  Lela, TX, and Siberia, CA, and at least a few humans. I don't recall ever hearing of businessman Arthur Nelson and, while it seems like I must have at least read about "father of the good roads movement" Horatio Earle, I sure didn't recognize the name. On the other hand, a couple searches for folks I did know of came up empty but I believe that, too, is to be expected. It really isn't possible to include absolutely everything and choices must be made. Every "Best Beatles Songs" list I've ever seen has left off at least one of my favs.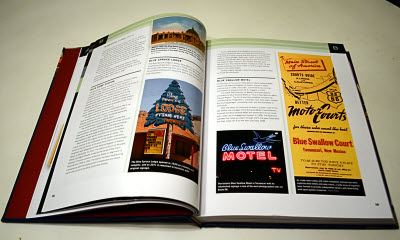 This is not my first exposure to Hinckley's work and, as I've said before, the man does his homework. Of course everybody knows about the Gemini Giant and it's not too tough to learn that it was made by International Fiberglass. But learning how many cowboys the company made for Phillips Petroleum and how they managed to make some giants with beards and some without and that the company's founder once set a world record in sailing? That takes some digging. And practically any book with 66 on the cover will tell you how Cyrus Avery was instrumental in getting the pair of sixes for the route after the desired Highway 60 designation was assigned elsewhere. Hinckley does that and also tells us quite a bit about some of his other activities such as his prior role in creation of the Albert Pike Highway and his subsequent role in helping form the U.S. 66 Highway Association. Incidentally, although I have not read every article in the encyclopedia, that is the only mention of the U.S. 66 Highway Association I found. Its post WWII spark plug, Jack Cutberth, was one of the names I thought I might see in the book but didn't.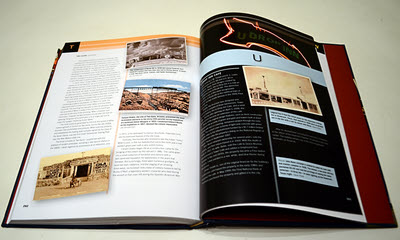 Even without Cutberth, the Route 66 Encyclopedia includes an impressive number and range of articles and many of those articles go into significant depth. The writing isn't flowery but neither is it terse. It's lean and efficient. The goal is to get as much factual information between the covers as possible and keep it readable. Hinckley does that rather well. Moreover, I think you'd probably still get your money's worth if you decided to forgo the text altogether and just look at the pictures.
Encyclopedia Britannica always had yearbooks. (To my surprise, I just learned they still do.) The Route 66 Encyclopedia has updates here. They can also be accessed through a QR code on the back of the book.
The Route 66 Encyclopedia, Jim Hinckley,  Voyageur Press, 2012, hardback, 11.1 x 8.7 inches, 288 pages, ISBN 978-0760340417