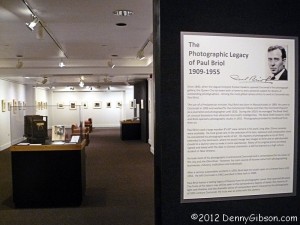 It's officially over and I pretty much missed it. The inaugural FotoFocus festival ended along with October and, despite some good intentions, I barely caught a whiff. Of the over fifty exhibits that were part of the event, the only one I actually saw during regulation time was the "The Photographic Legacy of Paul Briol, 1909-1955" at the Cincinnati Museum Center. Briol's photographs of Cincinnati in the first half of the last century are both documentation and art. He was a master in the dark room and learned to combine images to enhance the finished product. For example, a blank sky might be turned into a pleasant background by adding a few clouds. That was neither common or easy in those pre-PhotoShop days.
FotoFocus is the name of a a Cincinnati nonprofit that "champions the ubiquity of photography and its important role in contemporary culture." It is also the name of the just concluded month long series of exhibits, presentations, and lectures. There were a couple of receptions and at least one lecture that I wanted to attend but each of those encountered a conflict. I had a whole month to take a look at the many exhibits but just kept putting it off. When I finally panicked and got serious, it was too late. I managed to get to the Briol show at Cincinnati Museum Center on Monday and two others on Friday. Of course, Friday was November 2 and the majority of exhibits were history. The two I visited on Friday were fairly major productions whose runs extend beyond FotoFocus.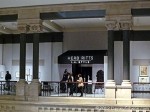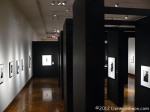 On Friday, I headed first to the Cincinnati Arts Museum in Mount Adams to see "Herb Ritts: L.A. Style". Since I do stop by here once in a while and wouldn't feel the need to see all of the permanent displays, I thought my visit would be fairly brief. Though I did essentially limit my viewing to the Ritts exhibit and a traveling Toulouse-Lautrec exhibit at its entrance, it wasn't exactly a dash in and out. For one thing, Friday was the first of three days of an expanded "Holiday Expressions" gift shop that filled the lobby. Secondly, several bus loads of students were touring the museum in groups of twenty or so. I love seeing kids in museums. They can be a little noisy and can sometimes block an intended path but they deserve to be there a lot more than I do. Kudos to the schools and teachers who get their kids out to see "stuff". There also happened to be two musical performances going on. In the lobby, a string trio played on a balcony for the benefit of "Holiday Expression" shoppers and two fellows played and discussed some "old timey" music for the benefit of the students in the main hall.
"Herb Ritts: L.A. Style" was curated by Paul Martineau for the J. Paul Getty Museum. Although I was not familiar with Ritts by name, I definitely recognized some of his photos including the cover of Madonna's True Blue album. Not all of Ritts' assignments were successful from the client's point of view. Several examples of his most impressive work came from assignments that were rejected because they matched Ritts' vision a lot more than the client's. Ritts' vision was darned good.
Even now. it seems, Ritts doesn't please everyone. There are some stunningly beautiful nudes in the exhibit. A sign at the entrance states this and suggests parents check out things and decide for themselves whether their children should see them or not. After I had viewed the exhibit, I stopped for a while just outside the entrance and listened to the musicians below. As I stood there, a fellow I guessed to be about sixteen or seventeen exited the exhibit and approached me. "My male instincts told me to go in there", he said. "They were wrong." There are nudes of both genders on display and I'm guessing that this was the teenager's problem. I doubt he had ever before considered that the word "nude" was not synonymous with "naked woman". Ah, the insecurity of youth.
"Herb Ritts: L.A. Style" runs through December.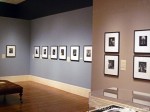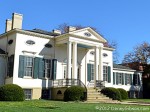 The other exhibit I saw on Friday was "Star Power: Edward Steichen's Glamour Photography" at the Taft Museum of Art. To my shame, this was my first visit to the Taft since its major expansion and renovation in 2004. That meant I needed to look over the whole place and not limit my visit to the Steichen display. Christmas season is starting here also with Friday being the first day of "Antique Christmas". This consists of a number of decorations, toys, and other Christmas related items from holidays far in the past spread throughout the museum.
Edward Steichen was a name I half recognized but couldn't connect with anything in particular. It turns out that, had I made any sort of guess, there's a good chance I'd have been right. He did a lot. He painted, directed movies, and played a key role in the publication of books and magazines and in the running museums. And he was a photographer. In World War I, he commanded the photographic division of the American Expeditionary Forces. In World War II, he was Director of the Naval Aviation Photographic Unit. His many activities between the wars included a fifteen year stint as photographer for Vogue and Vanity Fair magazines. That stint ran from 1923 to 1938 and I believe that most, if not all, of the photographs in this exhibit are from that period.
The title refers to "Glamour Photography" and his work for the world of fashion is well represented. It also mentions "Star Power" and the stars are all there: Greta Garbo, Katherine Hepburn, Joan Crawford, and many others including my fav, Claudette Colbert. The way Steichen handles light in these black and white images is remarkable as is his frequent use of stark high-contrast backgrounds. His lighting often adds a 3-D quality and both it and the composition automatically and consistently focus the viewer right where Steichen wants.
"Star Power: Edward Steichen's Glamour Photography" runs through January 27.
Even though I missed the majority of FotoFocus exhibits, I did see three of the bigger ones. With the Annie Liebovitz exhibit I visited a couple of weeks back, that means I've been exposed to some of the best lens based art of the last century in a fairly short span of time. I've never called myself a photographer. In fact, after seeing what can be done, I'm almost embarrassed to even be seen with a camera. I'll get over it and I won't stop snapping pictures but it was a clear reminder of just why I never call myself a photographer.
---
On Friday morning, I wanted to check out something about FotoFocus via my phone but I misspelled FotoFocus. I did it by correctly spelling Photofocus. Photofocus is a long running website that I was aware of though not one I can claim to be familiar with. By coincidence Friday was Photofocus' fourteenth anniversary. It was also the day that founder Scott Bourne announced his retirement. He is not retiring just yet. That will occur in exactly one year and the website will continue. Scott has already made arrangements to assure that. Accident, coincidence, and the reading of a couple of interesting articles made me think that maybe I should become familiar with Photofocus so I've subscribed to its RSS feed.