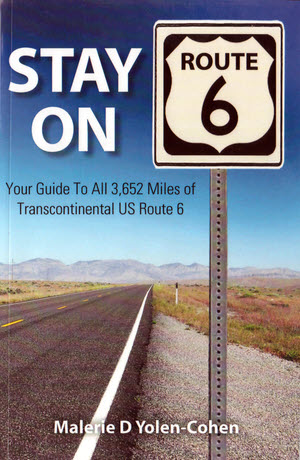 Much like the subject highway, my opinion of Stay on Route 6 has gone "coast to coast". In the end, I settled slightly inland on the positive side.
I was pretty excited when I first learned that an established travel writer had published a book on US 6. My excitement faded as I read the introduction and it was replaced with disappointment after I'd read a few pages of the "guide" portion. I paused then took a look at the blog the author had launched as she prepared for the cross country trip that would become this book. This somehow allowed me to let go of my preconceptions and accept the book for what it is. It is not a guide to the bypassed twists and turns of an historic highway. It is a guide to food, lodging, and attractions along the current path of a highway with history.
The seeds for recognizing my preconceptions were planted as I read the book's introduction. That's where Yolen-Cohen tells readers that Route 6 is not Route 66 and details some of the differences. The need to do this may be irritating but it is a fact. For many people, the only roads they know of are the interstates, some local streets that lead to jobs and shopping, and a mythic Route 66. It is a wonderful thing that Route 66 has the recognition that it does but it sometimes blurs people's perception of other roadways. I am quite familiar with the phenomenon. I have had several conversations with folks who expected the Lincoln Highway, the National Road, or the Dixie Highway to be just another Route 66 and were disappointed that they are not. It turns out I was guilty of something similar. I don't believe it was anything in the actual blog that did it but as I read some of the early entries I realized that my disappointment in the book wasn't very different from that of those travelers. I wasn't disappointed in the book because it was a bad guide but because it was not like the guides I was familiar with for Route 66 and other historic highways.
So once I got my own expectations adjusted, I found that the book was pretty good at doing what Yolen-Cohen intended. It covers the entire route, offers some casual commentary on the country along the way, and describes most cities and towns it passes through. Sleeping and eating establishments are noted with a distribution that should assure no one using this guide goes hungry or has to sleep in their car. The emphasis is on locally owned businesses and the owners are typically identified right along with their bistro or B&B. Yolen-Cohen met these people on her 2011 drive so her recommendations have a personal touch. Nearby attractions are also identified and I very much appreciate the effort to visit and describe local museums. I like local museums. Contact information including, where possible, address, phone number, and website, is included for each restaurant, lodging, and attraction.
I can't swear to there not being other travel guides created as this one was but I don't know of any. Guides like the ones I mentioned for faded historic routes are typically put together by someone intimately familiar with the road through years of exploration. On the other hand, my impression is that many dining and lodging guides are put together by someone sitting at a desk using a phone and computer to gather recommendations from chambers of commerce and other boosters. Yolen-Cohen certainly did some recommendation gathering but she did it specifically for her trip. She selected and scheduled almost all of her stops before leaving home then colored things in with a single cross country run.
I like that. I like the idea of a single road trip — even one meticulously planned — giving birth to a travel guide. Yolen-Cohen describes this as a life long dream. A little innocence even shines through the possibly jaded view of the experienced travel writer. At least it does in the blog. The blog (stayonroute6.blogspot.com) is part of the whole. The book contains some low resolution maps and some black and white photos. The maps help with mentally placing general locations but a traveler is expected to follow the route with posted signs and modern maps. Similarly, the photos help understand some of what Yolen-Cohen saw on her trip but little more. This is a black and white paperback guide book not a full color photo book. It belongs on a car seat, not on a coffee table. But Yolen-Cohen did take color photos and video, too. Both appear on the blog and are worth checking out.
There are few turn-by-turn directions in the book. They are not needed since it is following an active and signed US highway. That is, until it isn't. US 6 was once truly coast-to-coast and ran from the tip of Massachusetts to Long Beach, California. In 1964 the western end was truncated to Bishop, California. Yolen-Cohen carries on, however, and does provide turn-by-turn instructions for following the former US 6 to the coast.
I don't know of any significant errors in the book but I do know of two insignificant ones. At least they should be insignificant. It's even possible they would have gone unnoticed if the author hadn't gone out of her way to draw attention to them. The first one is in the introduction and is partly responsible for me almost giving up on this book early. Calling an "association" a "society" sets the stage for Yolen-Cohen's joke about the "unfortunately acronym'd ASSHO". I'm sure this was a legitimate mistake but the fourteen months between the goof's appearance in the blog and the book's publication seems ample time to realize that the organisation in question is the American Association of State Highway Officials (AASHO).
The second is when the author berates a Joliet, Illinois, museum that touts US 66 for not also touting US 6. This seems a little off key since the differences between an historic decommissioned Route 66 and a living breathing Route 6 have been duly stressed. But it turns even more sour with the realization that, despite claims that the museum "occupies the corner of Route 66 and Route 6". US 6, according to all maps I've checked, never gets within half a mile of the museum. A living breathing US 30 does pass by the museum. There isn't a US 30 section in the museum, either, but a Lincoln Highway (US 30's predecessor in these parts) display has just been added.
But, even though these errors are quite annoying to me personally, they do not make the book less useful. Anyone looking for a place to eat or sleep anywhere along this long highway can certainly benefit from Stay on Route 6 and the number of museums and other attractions included makes it valuable for sightseeing, too. It's kind of refreshing to see a guide for a highway that hasn't been declared dead by someone.
Stay on Route 6, Malerie Yolen-Cohen, CreateSpace, May 2012, paperback, 5.5 x 8.5 inches, 257 pages, ISBN 978-1468049398