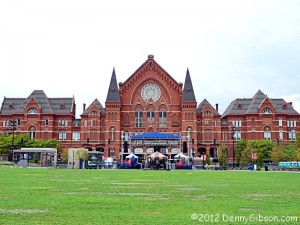 Some consider Cincinnati's Mid Point Music Festival second only to Austin's South by Southwest and some concede even that grudgingly  The eleventh coming of MPMF has just concluded and it was only the third I've attended at all. I think I was there the first year and again for the second or third but I'm not at all certain. Whichever ones they were, I know they were pretty early on and know that I've spent many years since feeling guilty about not going. Sometimes I was out of town or had another legitimate reason but mostly I was just too lazy. The effort that I shied away from was not the driving downtown or the hiking between venues; It was the effort of determining which venues to hike between.
This year is typical. There are 180 bands playing at 16 venues over 3 days. Unlike most music festivals, MPMF doesn't book the world's most well known bands to get you to attend. It books lesser known but highly talented bands to get them and you some exposure to each other. Unless you are an industry pro, you're not likely to be familiar with many of those 180 bands. You can either show up and hope you stumble upon a couple of performers that you like or you can spend time planning your visit in hopes of not missing your next big favorite. Or you can do what I've been doing and dodge the whole thing.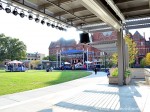 Maybe the feelings of guilt finally caught up with me or maybe it was the addition of the recently redone Washington Park as a venue or maybe it was actually recognizing the performer who would be headlining one of the Washington Park shows. It was probably all the above and more that prompted me to at least dip a toe — or ear — back into the Midpoint Music Festival. I decided to attend one night of the three day festival and partake of only the Washington Park offerings. The photo at the top of this post is of Washington Park a couple of hours before the official opening of the festival. That is the glorious Cincinnati Music Hall in the background. At what I believe was the first concert at Washington Park in July, the bands had played from the permanent stage where I stood to take the picture at left. Yes, the music has started but the crowd is almost non-existent. The opening crowd at festivals, especially those with sixteen stages, is often like that and rain & rumors of rain didn't help. As it turned out, not a drop fell on Washington park during the entire concert.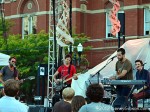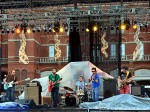 The group that opened the show and is playing to a lot of grass in the previous picture was the Bonesetters from Indianapolis. The crowd was significantly larger, though far from large, by the end of their set. With a good performance of very solid original material, they deserved more but, being both new and semi-local, the exposure was still no doubt good for them. Next up was the even more local but well established Pomegranates. I'd heard of them but don't believe I'd ever heard them and know I'd not seen them. From the white clothes and dyed hair to the Fender Mustangs, there is plenty of formula and gimmickry here but it's backed with solid music, lots of energy, and impressive vocals. The next band, Brooklyn's Here We Go Magic, seems to basically be a group of talented musicians delivering singer-songwriter Luke Temple's well crafted tunes. They sounded good and I liked the material but there didn't seem to be a whole lot of energy or conviction coming from the stage. It appears that band personnel may vary from time to time so maybe there's a killer …Magic lineup out there somewhere.
That headliner I recognized was Andrew Bird. I surprised myself by recognizing the names — not necessarily the sounds — of at least eight performers. Eight of one-eighty! I doubt many attendees would brag about a 4% recognition rate but this old man is doing exactly that.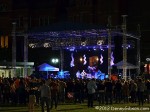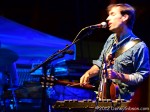 It was full on dark when Bird took the stage and, while that didn't help me get crisp photos, it did show just what those overhead spirals were there for. Spinning slowly and lit by frequently changing colored spot lights, they were a nice visual backing for Bird's music. I had heard a few recorded tunes so was aware of Bird's whistling ability but did not realize just how good it was or how much he used it. Where another musician might blow into a harmonica for a little non-verbal music, Bird just purses his lips and blows into the microphone. It might seem like a gimmick for a few seconds but it quickly becomes just another instrument in the mix. That mix includes a bassist, guitarist, and a drummer that plays keyboards. And then there's Bird. Seemingly equally proficient on guitar and violin, he usually plays one or the other but sometimes uses both in the same song. In the close up, he's playing a glockenspiel while holding a violin which he will pick or bow then lay down to play the guitar hanging at his side.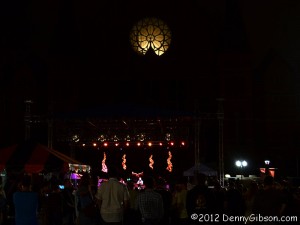 Music Hall's circular stained glass window sure looks good hanging above Andrew Bird's lighted spirals and there was a nearly full moon floating behind me. I truly enjoyed my one venue return to MPMF. I'm sure Thursday is the least crowded of the festival's three nights and the threat of rain may have also played a role. The crowd at Washington Park grew steadily as the first three bands performed then took a big jump as Bird's slot approached but it never reached the shoulder to shoulder mass that I feared and the promoters hoped for. I hope it was enough and I hope to be back next year. Sorry I've been away so long.
---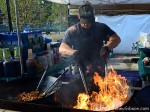 Not all of the entertainment in Washington Park was musical. Among the food vendors was new-to-me Island Noodles. I happened to be Brad's first customer of the day which meant I had to wait awhile for dinner but I got a great show and absolutely fresh food in return. Although it's hard to beat a huge flame, it was also fun to watch the veggies get chopped into the big wok. Before I even finished paying for my noodles, the next customer was beside me and business picked up from there. This is good eating.
This particular operation is based in Florida. That's where Brad lives but he is originally from Toledo and has spent the summer staying with his parents and working festivals around the state. Events included July's Bunbury Festival which was also in Cincinnati. As he cooked, we chatted, and Brad said he wished he had learned more about Cincinnati when he was growing up near the other edge of Ohio. "This", he says, "is the friendliest city I've ever been in." That's nice to hear. I think so, too.
---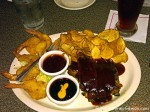 I was in Indianapolis last week and in my trip journal I raved about a bar-b-que joint named Squealers. It deserved the raves but it reminded me of two things. One, I hadn't eaten in my favorite ribs joint in quite some time and, two, I had a gift card that would let me do it for for free or close to free. I made use of that card on Wednesday. If I am ever convicted of a capital crime in a country that honors the last-meal-for-a-condemned-man convention, this is what I want; Montgomery Inn ribs, shrimp, and Saratoga chips. Being warned about stirring the sweet plum sauce and hot mustard is as reliable as death and taxes. I kidded the waitress about it and she shrugged. "You don't know what they do to us if we don't tell you", she said.