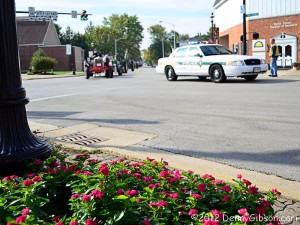 Officially it wasn't a parade. Its official title is the Lead the Way Tractor Cruise and its purpose is to raise funds for Darke County's United Way. But the line of classic tractors that rolled down Greenville's Broadway on Saturday looked a lot like a parade to me and I hope no one gets too mad if I call it that. This was the seventh time it's been held and I've been there for a few of the previous ones. I did an Oddment page for the second annual cruise in 2007 when there were about thirty tractors. There were 38 tractors registered in advance this year and even more showed up. The first announcement I heard said 44 but, as the tractors approached, the announced number was 43. A mechanical problem perhaps.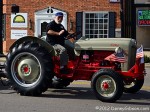 An early announcement also spoke of a participant in last month's record setting classic tractor parade in Nebraska being present and leading today's parade. I believe they said his name was Robert. This 1956 Ford was the first tractor behind the police cruiser and its driver was identified as James. Maybe I misunderstood or maybe Robert had mechanical problems. Maybe Robert was tractor forty-four.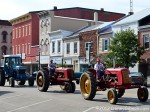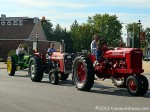 It was a great day for a tractor cruise and all the drivers seemed to be having a really good time. These pictures are just a small random sampling of the field.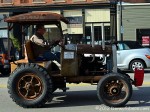 Although I don't know whether or not one of the tractors was driven by a world record holder or even, for sure, how many there were, I do know that this was the oldest. I've heard the word "doodlebug" used for other things but apparently its definition as an automobile converted to off road use is almost official. There were, in fact, conversion kits sold by Sears and others but most doodlebugs were created with whatever was on hand. The ubiquitous Model T Ford was the basis for many conversions but not all. This is a 1928 Chevrolet Doodlebug.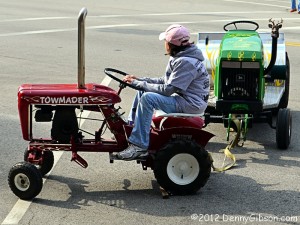 A tractor has to be at least thirty years old to be considered a classic. It's just a matter of time.
---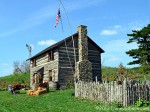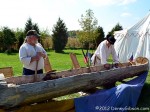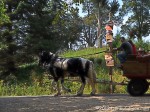 This was also Prairie Days weekend so I stopped by Shawnee Prairie Preserve to check things out.
---
With all that agriculture related stuff going on, the big Harvest Moon at the end of the day seemed just right.