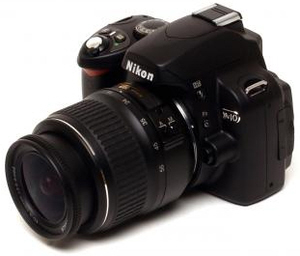 The two Panasonics were very capable cameras. They and cameras like them were sometimes referred to as "super zooms" and sometimes as "bridge" cameras. That second name comes from the view that they "bridge the gap" between simple point-and-shoot cameras and more versatile SLRs with interchangeable lenses and such.  I guess that's a pretty good view because that's exactly what the FZ8 did for me. It led me straight down the road and right across the bridge to SLR land.
I had been in SLR land before. Back in the '70s and '80s I owned a couple of Olympus OM-1s. The second one had sat idle for awhile when it, like the first one, was stolen. I didn't replace it. I remained camera-less for several years then decided that I needed to take some pictures while traveling in Florida. That's when I bought the little Nikon zoom film camera that I mentioned using for "real" pictures along side my first digital.
Previous My Gear installments have told the tale of my climb (or descent) from the barely usable 0.35MP Agfa to the very usable 5.0 then 7.2MP Panasonics. Using the Panasonics reminded me a little of those OM-1 days and I started thinking about digital SLRs. One friend had recently bought a Nikon D50, another a Nikon D40x, and both had brought out a little camera envy in me. The D40 was Nikon's entry level SLR. It came out near the beginning of 2007 and something called the D40x arrived just a few months later. I believe I even considered these cameras when I bought the FZ8 Panasonic in July of of that year but the price difference was still a bit much for me.
The D40x was a premium 10MP version of the 6MP D40 whose introduction pushed down on the price of the D40 and my visions of detachable lenses were further fueled by some of the deals being offered. Although I figured it was still a year or two in the future, I decided that my next camera would likely be an SLR. That's about when I dropped the FZ8.
It's for certain that I didn't drop it on purpose but there could be some doubt about the purity of the thoughts that followed. It didn't immediately occur to me that the damage might be covered  by warranty. Then, once it did, I had to get authorization and send the camera off to possibly be repaired. I am, of course, scanning camera ads the whole time. I had a road trip approaching and I convinced myself that I absolutely had to have a good camera for it and that the Panasonic would probably not be returned in time. I was wrong about the Panasonic. It arrived in good working order the day before I left on the trip. But I was right on the other thing. I am totally convinced that I needed the Nikon D40 that I purchased.
For $791.40, I got the D40 body, 18-55mm & 55-200mm zoom lenses, and a small flash. The Nikon was bigger and heavier than the Panasonic but not horribly so. Though I was at the very bottom of Nikon's tall line of SLRs, I was once again in SLR land.
The little flash, a Nikon Speedlight SB-400, was also at the bottom of the Nikon line. It wasn't as powerful as its pricier siblings but it was a bit more powerful than the D40's popup flash (GN 21 vs. 17), sat a little further above the lens, and offered bounce capabilities. It was also small enough to fit in a pocket or into a belt bag along with an extra lens.
Today's Digital SLR land is quite a bit different from the film SLR land I remember. In the 1980s, automatic exposure was kind of costly and not always satisfactory. Auto focus was an exotic blip on the leading edge of photography. Today these features and a lot more automatic wizardry are present in virtually every camera and cell phone made. The vast majority of situations are handled quite well by a modern camera running on full auto pilot and that includes SLRs. The manual controls are nice when you need them. You don't need them much.
My Gear – Chapter 12 — Lumix DMC-FZ8