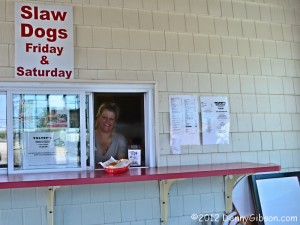 Rick Volz, a.k.a. Voltzy, has been serving hot dogs and hamburgers in Moraine, Ohio, for twenty years. I know that because several newspaper articles mention it and because, when he found out that Saturday was my first time at his restaurant, Voltzy informed me that he had "been waiting twenty years for you to get your a$$ in here." Even before that, a couple he had been talking with let me know that I needed to get a slaw dog. They're only available on Friday and Saturday and I'd be foolish to pass up the opportunity. At some places you're a stranger only once. At Voltzy's it's less.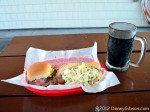 I didn't want to look foolish but I had set out for a hamburger so, instead of the 'burger and fries I'd been thinking of, my order became a 'burger and slaw dog and a mug of Frostop draft root beer. The dog was good but the mustard was a little too hot for my admittedly wimpy taste. The 'burger I ordered was actually called the "Voltzy" (cheese, ham, & onions) and it was great. So was the root beer. The guy who followed me also ordered a slaw dog plus a patty melt with an egg. Voltzy's menu is an interesting one.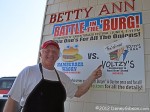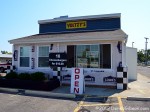 For its first eighteen years Voltzy's Hamburger & Root Beer Stand operated out of a trailer. I know I drove right by it many times during those years but had never noticed it. Only after a permanent building (dedicated to Rick's mother, Betty Ann) was constructed in 2009 did it even catch my eye. It was only a year or so ago that I figured out it was a hamburger joint that I ought to try. But I don't pass the spot all that often and, even in a real building, Voltzy's, sitting back from the street, isn't a real attention grabber. Earlier this summer, I saw a poster like the one Voltzy is pointing to while standing in line at the Hamburger Wagon and gave the place a little more priority.
I finally made it and I'm sure I'll be back. That it beat out the Hamburger Wagon in a head-to-head contest is understandable. I personally really like the Wagon's little fried 'burgers but acknowledge that part of the attraction is watching them prepared then walking around town or down by the river while munching. Compared to the Wagon's one item menu, Voltzy's menu is huge and, as I said, interesting. The Voltzy isn't the only sandwich with a name. There's the HollyGirl triple cheeseburger, the Murph double cheeseburger, and the Grossman grilled bologna just to name a few. Many of the hamburgers are also offered in a "hog" version using a patty three or four times the size of the regular,
When it was still operating in the trailer, Voltzy called his establishment "Montgomery County Ohio's only 7 Star Mobile Dining Facility". I failed to ask what he calls it now.