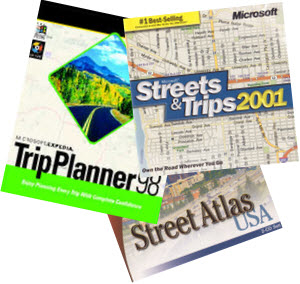 I really don't remember it but there is hard proof that I used Microsoft Expedia Trip Planner 98 to plot a drive to Florida even before my first documented trip on Route 66 in 1999. In January of that year, my girl friend, Chris, and I drove to Daytona for the Rolex 24 Hour Race then to Pass Christian, Mississippi, to visit my daughter. The photos used in that first practice page I mentioned in the first My Apps installment were taken on that trip. If you had asked me a few days ago whether I had ever used Trip Planner for anything "real", I'd have said no but there are a couple of maps and pages of turn-by-turn instructions for that trip which are clearly the product of Trip Planner 98.
My memory is just as bad regarding the other two pictured products. In a My Gear entry I described using Streets & Trips software to plot a trip then following the route with a laptop and a GPS receiver toward the end of 2001. That's what I remembered but it's wrong. There is no doubt that I owned Microsoft Streets & Trips 2001 and there isn't much doubt that I used it during the summer of 2001 when I was plotting that trip but, when the rubber met the road and the GPS met the 'puter, it was DeLorme Street Atlas 9.0 that was in play. Proof of that comes from the printed and posted maps and turn-by-turn directions with "Street Atlas USA® 9.0" in the upper right corner. I vaguely recall that something sometime caused me to switch to DeLorme but I thought that "sometime" was after the autumn 2001 trip. My best guess on the "something" is that it had to do with waypoint limits but my memory is clearly not to be trusted and moving to DeLorme may have eased limits but it certainly did not eliminate them.
I obviously don't remember much about these programs. My memory of why I switched from Microsoft to DeLorme is vague and my memory of when was wrong. But, whatever the details of the battle, DeLorme Street Atlas emerged as my favorite routing tool pretty early and it remains my favorite. Of course, familiarity plays as big a role as anything in identifying favorites and that's certainly a factor here. I have looked at some Garmin routing software and will talk of that in future My Apps posts but I don't remember looking at Streets & Trips since 2002. Apparently I haven't looked at it since 2001.
My Apps – Chapter 1 — PhotoWise & FP Express