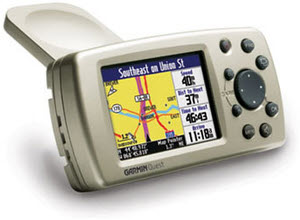 My relationship with GPS receivers took a whole new direction when I got my a Garmin Quest. Some may recall that Garmin described my previous unit, the GPS III Plus, as having "cartographic capabilities". It did not do routing of any sort. Before buying the Quest in June of 2006, I "test drove" a friend's GPS V which Garmin called a "versatile navigator". I believe it was. It did routing and may have served my purpose but it had been discontinued in January and getting current maps for it was already a bit of a problem. That could only get worse. At the end of the day, I opted to spend $345 for a new Quest.
The Quest had appeared in late 2004 and there was already a Quest 2 model when I made my purchase. The difference was memory. The Quest 2 had enough of it to hold the detail map for the whole USA. In fact, that detail map, City Select North America, was preloaded onto the Quest 2. The Quest came with a CD and enough memory to hold something on the order of Ohio or Indiana, or a strip crossing two or three states. The Quest was noticeably cheaper and I wanted the CD for off-GPS routing anyway. It seemed the obvious choice.
The Quest did require feeding when on a long trip and it was possible to overdrive whatever maps were loaded but it was otherwise ideal. It had a small color screen and a speaker. Its push-button controls were very similar to the familiar ones of the GPS III Plus. I could "Find" something with it then request that it "Route to" what I'd found. It would then guide me to my destination with visual and spoken directions. It did not speak street names, as some units were doing at the time, but street names were displayed. The voice (female and always calm no matter how many times I ignored her) might say "Turn right in 500 feet" and a glance at the screen would show the street name along with the zoomed in map. Even better than the Quest telling me how to get somewhere was me telling it how I wanted to get somewhere and it telling me how to do that in real-time.
I typically don't merely want to get somewhere. I want to get there along a specific, perhaps historic, route. I don't want the "quickest" or "shortest" route. I want "my" route. The one I carefully plotted on my PC. In this, the Quest was a willing and capable partner. There were some issues in getting my chosen path to the unit in a form that matched its maps but the complications came from the way I chose to do things and not from any Quest shortcomings. Once a route was properly tweaked and downloaded, the Quest would visually and verbally guide me along. As a more-often-than-not solo traveler. I appreciate this deeply.
Popping the Quest from its cradle was extremely easy and sliding it into a pocket just as easy. Its twenty hours of battery meant you really could do a serious walkabout and not lose your car. Even though I eventually bought an external antenna to boost reception on rainy days, the built in one was generally more than enough. In short, the Garmin Quest was as close to perfection as any GPS receiver I've had contact with.
It was maps that prompted me to replace it. In 2008 I bought a factory refurbished Quest because it came bundled with the latest detail map and was priced below buying just the map from Garmin. As it turned out, not only was this the latest City Select Map; It was the last. Current model Garmin GPS receivers use a map product called City Navigator. To an outside and somewhat casual observer, Garmin appears to abandon one line of development for another more often than seems necessary or wise. Since the Quest was so close to perfect, I assumed that newer models would be evolutionary and even closer. I was shocked and a little angered to discover that current models seem to be totally new developments that in some areas are much less capable than the 2004 model Quest. In my heart I know it's doomed to fail but if anyone wants to start a "Bring Back the Quest" petition, I'll sign.
My Gear — Chapter 10 — Toshiba Satellite A105