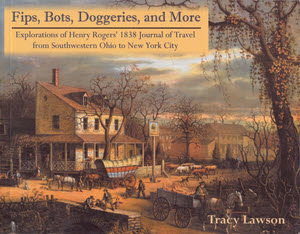 In 1990, Tracy Lawson's parents gave her a stack of twenty-one photocopied pages as a Christmas present. Transcribed onto the typewritten pages was the journal of her third great-grandfather's 1838 trip from a Cincinnati suburb to New York City. In 2012, Lawson is sharing those pages and the experiences they triggered, in Fips, Bots, Doggeries, and More. The book is comprised of two sections. "Section I — 1838" contains the journal along with Lawson's illuminating comments and notes. "Section II — 2003-2009" contains accounts of the author's own trips along the route. Both sections are liberally illustrated with black and white photos and drawings.
The writer of the 1838 journal was Henry Rogers, who operated a successful mill in Mount Pleasant (now Mount Healthy), Ohio. Traveling with the 32 year old Henry were his wife and her parents. The miller was both literate and observant and he sets out to record "…all interesting subjects and things that come under my observation". The journal provides a most interesting look at nineteenth century roadtripping. Henry recorded expenses and named names so we know, for example, that the group spent a night at Winchester's hotel in Jefferson (now West Jefferson), Ohio and paid $2.50 for the privilege. That $2.50 covered bed and board for four people and two horses. Along the way, he records expenses for tolls, horseshoes, wagon tyres, and "face barbering", etc..
The travelers picked up the National Road in Jefferson, Ohio, and followed it and its extensions to Hagerstown, Maryland. As a fan of the National Road, I enjoyed reading Henry's descriptions and found his pre-bridge entry to Wheeling, Virginia, which required a ferry over each of the two Ohio River channels at costs of 25 and 37.5 cents, especially interesting. They passed through Brownsville, Pennsylvania, during construction of the first cast iron bridge in the United States. It doesn't appear as if Henry realized that the bridge that would soon carry the National road over Dunlap's Creek was the first of its kind but he described it as "splendid" while being forced to cross on an "..old narrow bridge that looked as though it would scarcely bear its own weight." At Hagerstown, the group turned northeast and headed toward Gettysburg, Pennsylvania, then through Abbottstown and York to Lancaster. Roadies will recognize the Gettysburg to Lancaster route as the future path of the Lincoln Highway. From Lancaster, they continued northeast to Trenton, New Jersey, where they spent a little time and made a visit to Philadelphia before moving onto New York City.
The 1838 journal is accompanied by sidebars that explain unfamiliar terms or provide background for certain passages. The journal's text is cross referenced to a set of end notes. A subsection titled "Expansions" contains short dissertations on subjects that were part of Henry Rogers' world. These include mills, finances, politics, medicine, fashion, and more.
The author made three trips specifically to experience and research the route her great-great-great-grandparents had followed. Two were driving trips with her daughter and one was a solo fly-and-drive outing. These trips are covered in "Section II" with a blend of genealogy, personal discovery, and general history. It's fun reading that mirrors Henry's journal in the sense that both are straight forward reports of some relatively unscripted travel. Henry's journal held my interest more but there is a good chance that this was because his travel was so much different from today's. Lawson describes some of the places she stayed and ate much as Henry did and there is even an encounter with a less than savory character that is reminiscent of some of the "scoundrels and topers" encountered by Henry. But Ramada and Cracker Barrel don't have the same zing as names like Sign of the Bear and Cross Keys Tavern.
Lawson does locate and visit several of the places mentioned in the journal including a few, such as Pennsylvania's 7 Stars Inn, that are still operating. She also picked up some information at libraries and local historical societies though the trips were not as rich in field research as she had hoped. They were more successful, it seems, on a personal level. She was able to familiarize herself with the path her ancestors traveled and the world they lived in The mother-daughter time was, as the ads say, priceless.
That personal connection won't be there for most readers of Fips, Bots, Doggeries, and More, but it is still an entertaining and informative look at a road trip back when thirty-one and a half cents fed a family of four and two horsepower was plenty.
There are some minor errors. Perhaps I'm just sensitized to this sort of thing but referring to US 36 as State Route 36 and saying the Madonna of the Trail Monuments were "erected … on US Route 40 and US Route 66" with no mention of the National Old Trails Road bothered me. Aside from increased knowledge of her own ancestors and the world of 1838, it seems Tracy Lawson gained some insight into heritage road trips. In the Epilogue she says "And if I were driving the National Road again, I would eat at all the restaurants that were once taverns Henry mentioned in his journal!" I hope she makes that happen.
Fips, Bots, Doggeries, and More, Tracy Lawson, The McDonald & Woodward Publishing Company, April 2012, paperback, 9.1 x 7.1 inches, 156 pages, ISBN 978-1935778196