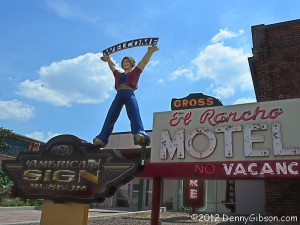 I was part of a road trip today but it wasn't mine. Roadie Fred Zander from Topeka, Kansas, is in Ohio visiting family north of Dayton and came down to Cincinnati for the day. Like many others, Fred has wanted to visit the American Sign Museum but its limited hours made him put it off. The ribbon cutting was yesterday. Today was the first "normal" day and Fred was among the first "normal" customers.
Although it was the Sign Museum that prompted the trip and Fred even commented that the museum alone would have made the trip worthwhile, this was also Fred's first visit to the Queen City and an opportunity for me to do a little boostering. I think I did OK in that regard but really fell down in the picture taking department. I had good intentions and almost always had a camera nearby but, presumably since everything was familiar to me, whatever it is that makes me want to click rarely appeared. So, while I showed Fred what I believe is some Cincinnati "good stuff", I'm going to have to tell about it with few visual aids.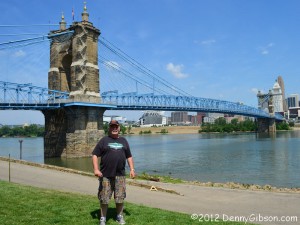 I met Fred at an I-75 exit a little north of the city where he could leave his car. We headed directly downtown from there and drove by Music Hall, Fountain Square, P & G headquarters, and Cincinnati's oldest bar, Arnold's. On the way to the 1867 Roebling Suspension Bridge, we got a glimpse of the football and baseball stadiums and the National Underground Railroad Freedom Center. On the Kentucky end of the bridge, we pulled into a small lot beneath it that offers a good view of the bridge, the river, and the Cincinnati skyline. I even thought to get a picture of the skyline in addition to the picture of Fred backed by the Roebling Bridge. Before moving on, we took a look at the scenes from area history captured by large murals painted on the flood wall.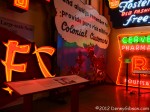 Then it was time for the sign museum to open so we headed back to Ohio. I actually remembered to take some pictures there. One reason may have been that the explanatory panels that stand near most signs were new to me. The text had been ready for the sneak previews but not the stands. I wish I had taken a picture of the face of one of the panels as an example. Tod wrote most or all of these and it's no surprise that they are quite informative. Sharp eyes may have noticed the American Sign Museum sign at the museum entrance in the photo at the top of this article. That's also been added since the previews as have some plaques and section signs inside. We were not on an official tour but Tod was always nearby answering questions and pointing out things so it was an "almost tour".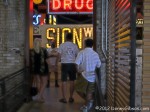 Real tours, which are free, are given at fixed times. Space permitting, walk-ups are welcome but tours may be scheduled and tickets purchased through the museum's website. The picture is of the first official tour at the new location. Most of the group is on the other side of the wall.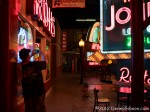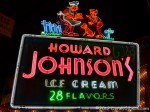 I also got a picture of Fred's favorite sign and a picture of Fred taking a picture of Fred's favorite sign.
After a couple of hours at the sign museum we drove a couple of miles south to the Cincinnati Museum Center. The museum center is in the 1931 Union Terminal and the art deco building with its murals and other decorative features is something of a museum itself. We did not visit any of the three real museums there.
It was beginning to get a little hungry out so we headed over to Terry's Turf Club. I had originally wanted to stop at Camp Washington Chili which is just a few blocks from the Sign Museum but it's closed on Sunday. Terry's is known for its fantastic hamburgers and huge collection of working neon signs. It's definitely a fitting place to eat after an American Sign Museum visit. Dessert was ice cream at the 1913 Aglamesis Brothers shop just a few miles north.
Although I didn't do a very good job of recording the reverse road trip, I did enjoy the chance to show someone a little bit of my town. Fred clearly enjoyed his first visit here and declared his intentions to return. I'm looking forward to it.