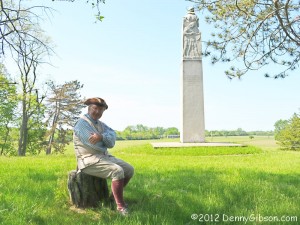 Ohio did not, of course, exist in any official form during the American Revolution and there were no British troops at the Battle of Picawey, but the conflict that occurred a few miles west of present day Springfield, Ohio, was between American rebels and British allies and definitely part of the American War of Independence. I knew a little about the battle but today I learned a whole lot more about it from a fellow wearing a tricorn hat and sitting on a stump.
George Rogers Clark Park is where the "New Boston Fair", which I attended in 2010, is held and the group responsible for that, George Rogers Clark Heritage Association, also conducts a "Spring at New Boston" event. It is a two day, Saturday & Sunday, affair that seems to be promoted as a plant sale. That didn't interest me very much, but a "History Walk", which did, was also mentioned. Today, Sunday, I turned out to be the only participant and, when historian Bill Smith explained that the walk wouldn't reveal anything he couldn't point to, it didn't take long for two men of a certain age to talk each other into finding a pair of comfortable stumps. He and a couple of similarly aged gentlemen had done the same thing yesterday. Of course, if some youngsters show up for one of these, Bill will gladly lead them across the road and just might have a few reenactors pop out of the shadows along the way.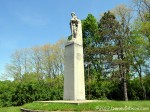 Bill handed me a sheet with a few paragraphs on one side and a map on the other. Neither of us ever looked at the text but the map was a great help in understanding the battle. Before detailing the battle itself, Bill described some of what led to it and I believe I found that even more interesting. In June of 1780, Captain Henry Bird led a group of Indians and British soldiers into Kentucky where both Ruddle's Station and Martin's Station were overpowered. Both stations surrendered, but Bird could not keep some portion of the Indians from killing a number of what were essentially his prisoners. Although Bird then returned to Detroit with his prisoners, he had certainly frightened the Kentuckians and got the attention of Colonel George Rogers Clark who raised an army and headed north. Although a British built stockade stood nearby, there were no British forces at the Indian village of Peckuwe when Clark attacked on August 8, 1780. The Indians were driven from the village and the battle was a victory for Clark. There were no more raids into Kentucky for the duration of the Revolutionary War.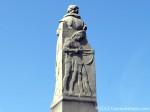 Clark is on the front of the 35 foot tall monument. Tecumseh is on the back. He was at the battle — sort of. He was about twelve years old and was among the women and children who fled the village in advance of the attack. The marker identifies this as his birthplace. It is one of at least three locations identified as such by someone. One of the claims for it being near this marker comes from Thomas Worthington, the future governor of the future Ohio, who is one of two men who say Tecumseh himself identified the nearby river as his birthplace as he passed it in their company.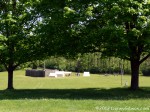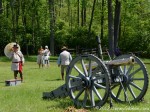 The history lesson on a stump was certainly fun but there was even more fun to be had. There was a small War of 1812 encampment across the way in the field that is filled by the fair on Labor Day weekend. Bill had pointed to it a few times when talking about the 6-pounder cannon that Clark had used at the battle.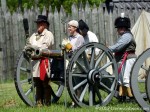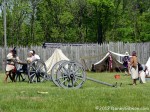 The cannoneers were clearly enjoying themselves but were nearly as polished as the brass barrel of the big gun. There was no grapeshot or heavy balls loaded into that barrel but black powder is not something to be sloppy with. They weren't. They knew their duties and performed them on command.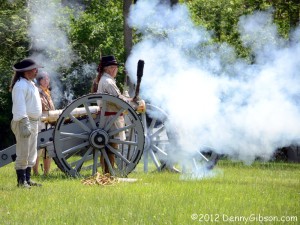 I learned later that the cannon, though present, had not been fired on Saturday. That might explain why the crew seemed to really be enjoying themselves today and why they fired the gun multiple times. Timing is not precise. There might be a second or two between the touching of the match and the actual blast. That's my excuse for jumping at every boom even after I knew exactly what to expect. The picture above is of the fourth and final shot but there are also pictures of the first three: Shot #1, Shot #2, Shot #3.