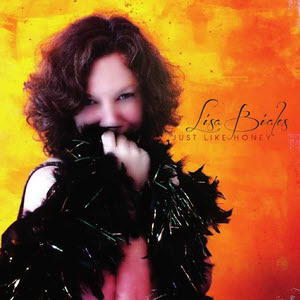 I read somewhere that Alannah Myles recorded her 1989 hit Black Velvet in a hot un-air-conditioned room to make it feel, and therefore sound, like "Mississippi in the middle of a dry spell". The result was something that could be described in a single word and which fit that word, sultry, in every dimension. Lisa Biales didn't forego climate control to record Just Like Honey but she did get some help from the south and she did nail SULTRY — dead center and in capital letters.
The title track comes from Nashville song writers Cameron-Beck-Kahan.There are a couple Biales originals, a couple from the CD's producer, EG Kight, and a Biales-Kight collaboration. Most of the remaining material comes from some of Biales' musical influences and that was a conscience decision by her and Kight.
If you ask Lisa to name her influences, you best not be in a hurry. The list of female singers she admires and draws from is a long one and includes many who are no strangers to sultry themselves. She doesn't get to all of them here but she does cover some biggies. There are tunes by Memphis Minnie, Bonnie Raitt, and Candye Kane plus songs written by others but firmly associated with the likes of Ma Rainey, Etta James, and Odetta. And by "cover" I don't mean "copy". I mean celebrate and interpret.
A goodly chunk of that "help from the south" I mentioned comes, of course, from Kight, a.k.a, "The Georgia Songbird". There's a big dose from Paul Hornsby and his Muscaline Recording Studios in Macon, Georgia, and Capricorn veterans Tommy Talton, Marshall Coats, and Bill Stewart (guitar, bass, drums) contribute their share, too. In fact Talton, supplies a song, Watch Out Baby Don't Cry, that quickly became a favorite of mine. Talton, Coats, and Stewart form the core group for this CD but others, including Hornsby on keys and Ken Wynn on guitar, show up here and there.
So we have some highly talented musicians, an accomplished producer and engineer, some original material, some material "borrowed" from the best, and maybe even a little of that "slow southern style". That's a mighty fine foundation for Lisa's clear and powerful… and sultry… vocals. Just Like Honey is the name of the CD and of a song that's on it. It's also a pretty good description.
The CD is here and Lisa's website here.


---
I've mentioned a few of Lisa's live performances in this blog including a couple in April where she and Ronstadt Generations traded "guest appearances". Ronstadt Generations have just launched a Kickstarter project looking for help with their second studio CD. Check it out here.