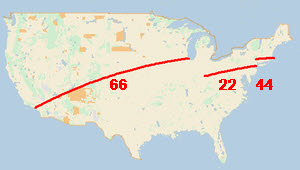 This trip has been a tough one to get started. It has its roots in some decade old thoughts about driving US-22 end to end that morphed into plans for combining that with a drive of US-44, the only other surviving twin-digit even-numbered US highway. I've had it penciled in a couple of times then had it all down in ink at the end of last summer. The route was plotted and motels booked for some of the key dates. I had my voucher for a one day dash-in dash-out tour of Boston to separate the eastbound staging from the westbound drive. The ink, however, was not waterproof. At least not waterproof enough for a hurricane. When it became apparent that Hurricane Irene and I were headed for the same spot at the same time, I played the gentleman and let the lady have it all to herself.
Plans for a spring time reschedule have been a little slippery but they've finally been tacked into place and I am now on the road. The cover page is still here where it's been since last year's.almost trip but now the first day is posted and there's more on the way. A couple of days heading east, a day in Boston, and a couple on the cape. Then it will be back home on US-44 + US-22 — a.k.a, 66 the hard way.
This blog entry is to provide a landing spot for comments on the trip.