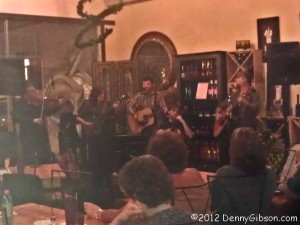 It was double good news when I learned that Ronstadt Generations would be performing nearby. Not only was it a chance to see the talented guys from Tuscon, it was a chance to see a venue I'd only heard — and only heard good things — about. Then, when I began to make arrangements to attend,
I discovered that there was another show happening a couple of nights earlier that I was also interested in.
The Ronstadt Generations performance would be a "house concert" on a Saturday at the home of Marc & Lisa Biales. Lisa would be the opener and would almost certainly be joining RG for a few tunes. When I looked at Lisa's online schedule, I spotted Greenville, Ohio, listed for the preceding Thursday. Greenville!?!? That's the big city in my home county. I'm there every couple of weeks. This was big news. I have lots of family there and contacted an aunt who I knew would like Lisa's music. We made plans to attend and my step-mother surprised me just a little by agreeing to go, too. We got there early and ate some rather tasty sandwiches as we watched a sound check and the arrival of other attendees. My aunt has been to several performances at Montage and told us that the acoustics weren't great and that the place could get pretty noisy. Lisa and friends proceeded to prove her wrong for at least one night.
The music held everyone's attention and everyone held their tongues. A friend who stopped by our table during intermission commented, "That's a lot of talent to have in Greenville at one time." The cellphone picture that leads off the post is from that show. Besides fulfilling the claim that "If you want a picture really bad, I've got a really bad picture", it gives a little idea of the intimate setting and you can see all the players if you squint just right. From the left there's the Lisa Biales Trio: Doug Hamilton, Lisa, and Michael G Ronstadt. Surprise bonus guests are on the right. The other two RG members, Petie and Michael J, (who Lisa settled on referring to as Poppa Ronstadt) came along and sat in for a few songs. A wonderfully unique and unforgettable evening.
The show was part of the Darke County Center for the Arts Coffee House Series. Although this was my first time at Montage, I have attended and enjoyed other DCCA events (e.g., Eric Bibb, Riders in the Sky). They do good stuff.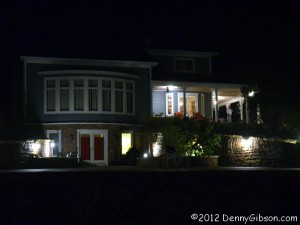 This is Marc & Lisa's Big Song Music House. In quiet times, the curved array of tall windows on the left provides a relaxing view of the Oxford, Ohio, countryside. Close the big curtain, however, and the view is replaced by the perfect backdrop for performing musicians. Lisa talks glowingly of the land on which the house sits. There are trails, small critters, and two Lovers Leaps (both regular and "Luke-Warm"). I hope to see some of that on a future visit.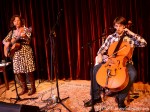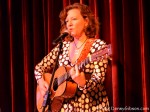 Lisa stepped to the mic at almost exactly 8:00 to get things rolling. One member of the Lisa Biales Trio, Doug Hamilton, was missing tonight so Lisa and Michael G Ronstadt just delivered a great set as a duo. Knowing Lisa would return now and then to sing with the Ronstadts made letting her go after just three songs at least acceptable.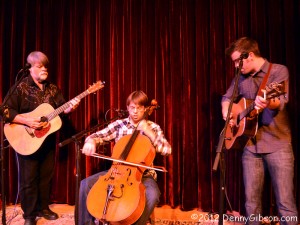 The music was barely paused as Ronstadt Generations took the stage. Not only does Michael G get to sit while everyone else stands (a major cello plus he likes to point out) but he often gets to sit while groups of musicians form around him. Oddly enough, this was the first time I'd seen the official Ronstadt Generations live and in person. I did see them in 2010 but without Michael G. Of course, musicians of this caliber make great music whether they're in their "official" grouping or not.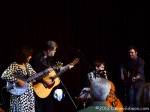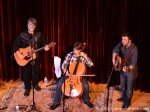 Sure, there was some overlap between Saturday's show and what
I heard on Thursday but there were plenty of differences, too. Thursday was Lisa's gig and the Ronstadts, other than Michael G, were featured guests. The situation was basically reversed on Saturday. But the guests got ample stage time in both concerts. The picture with all four musicians was chosen to give some hint of how much fun the performers were having and of how intimate the setting was. The heads in the front row (where I sat, on the right, for the first half of the evening) show that the audience gets quite close but the room, though fairly full, never felt crowded.
It's impossible to pick a favorite. Lisa Biales with special guests Ronstadt Generations or Ronstadt Generations with special guest Lisa Biales. Thank goodness those two lineups will never be playing across town from each other on the same night.
---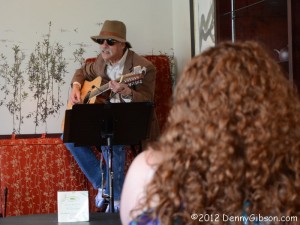 This is Gary Sugarman, a neighbor of mine who likes to play guitar and sing. A few years ago, he hooked up with a couple of friends who liked doing that, too, and they had a good time playing and singing and occasionally entertaining small groups. Things changed a little when they added a drummer but they were still having fun. Next came a bassist and that "we're a band" moment. It was still fun but not quite as much and the fun was sometimes offset with something that felt a little like work. Gary is still part of that band, the Creekyknees, but decided to try performing solo for the first time. He's approaching it cautiously and debuted today in the small Essencha Tea House. It holds about twenty and was seeded by a half dozen friends. I made it for his second set and liked what I heard. So did his other friends plus some ten or so people who didn't know him at all. Will Gary be soloing more in the future? Don't know. Did he have fun? Absolutely.