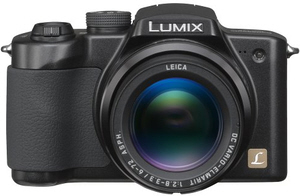 This was my 2005 Christmas present to myself. It was clearly a step up in many regards but it was also a step away from some characteristics I'd cherished in my previous digital cameras. The change in form is significant. Although the Lumix DMC-FZ5's height and width were each but a fraction of an inch larger than the Canon A75, its depth was well over double that of the Canon; 3.3 inches vs. 1.26 inches. This was not a camera to slip into a jeans pocket as was my habit. Another big difference bordered on sacrilege. This new acquisition used box shaped proprietary batteries. No more gas station plastic-wrapped alkaline safety net.
I did not give up these things lightly. Even though my insistence on AA battery powered gadgetry had rarely paid off it did provide peace of mind. Claims that the proprietary batteries were good for 300 pictures on a charge were reassuring and I bought peace of mind by immediately adding two spare batteries and an AC/DC charger.
The size thing, however, meant real compromise. I had found myself wanting a longer lens more and more often. The fairly new class of cameras called compact super zooms tugged at that want. Canon, Nikon, Sony, and others all had them. When a co-worker brought in his Sony DSC-H1 to "show & tell" I was impressed and started shopping. The DMC-FZ5 got my attention right away. With the exception of the one dimension, it was barely larger than my Canon A75 and less than a half ounce heavier. Any one who has seen my trip reports knows that I like to shoot pictures of the road ahead. One handed over the windshield when I can; Through it when I can't. The lightweight Panasonic was a good fit for that sort of thing and the fact that it had image stabilization was a definite plus.
There was also a change in recording media but it was hardly traumatic. The Agfa 780c had used something called Smart Media. The two Canons used Compact Flash. The Panasonic required SD (Secure Digital). None of these devices are terribly expensive. Buying a couple new cards when you buy a new camera won't bump the bill significantly and you will probably want to buy a card or two even if your old ones are compatible with the new camera. Why? Because they've probably shrunk. They still contain the same number of megabytes or gigabytes but the new camera likely produces larger picture files so that those megabytes and gigabytes fill up faster. Files from the 5 megapixel Panasonic  were considerably larger than those from the 3.2 megapixel Canon so I had no qualms about buying different — and higher capacity — media cards.
A longer lens was the reason I first started thinking about this sort of camera. The 12X zoom on the FZ5 was the 35mm equivalent of 36-432mm. It was made by Leica and that probably sold me as much as anything. A digital camera is made of electronics and optics. Panasonic makes some good electronics. Leica makes some great optics. This could be a decent camera.
It was. I was very pleased with my Christmas present even though it had a price tag right at $400. My faith in digital photography had grown significantly. Like much of the world, I was starting to believe that it might really have a shot at replacing film. I still didn't have a camera that could do magazine covers but this one could do the stuff between them just fine.
My Gear – Chapter 7 — Canon Powershot A75
---
The need for spare batteries coupled with my bargain seeking tendencies led me to an independent vendor with whom I continue doing business to this day. He is an eBay merchant named OrphanBiker. The name comes, not from the seller being an orphan himself, but from his being attracted to unusual motorcycles that some call orphans.
"…the more obscure the better" is how he describes his taste in bikes.
My first order, placed the same day I bought the FZ5, was for those two batteries and charger I mentioned. Admittedly, a charge on these batteries did not last quite as long as with the genuine Panasonic version but they otherwise worked just as well and cost considerably less. The charger I liked much more than the one that came with the camera. It was a small cube with a foldaway AC plug and a detached cable for DC operation. I have since gone to OrphanBiker for batteries and chargers for other cameras and chargers for cell phones. The only problems I've ever experienced have been internal breaks in a couple of the cables after a year or two of use. People who don't twist, pull, kink, and pinch their cables like I do probably won't see even that.