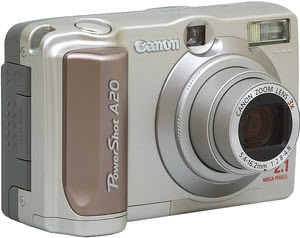 As I looked back over my travel gadget purchases, it was immediately obvious that many preceded a major trip. The idea of a long lived website, rather than a one trip experiment, started to form as I got serious about retracing a 1920 Florida trip my great-grandparents had made. Purchases were made during the summer of 2001 in anticipation of making the trip in late August. The first was a real upgrade in the camera department.
Some of the improvement over the Agfa came from a significant increase in price but a lot more came from two years of progress. Even with more than a hundred dollars off the $500 MSRP, the Canon PowerShot A20 cost over twice what I'd paid for the Agfa — $384 vs. $186 — but I now had a real camera. It had auto focus, 3X zoom, and 1.92 effective mega-pixels plus, apparently, 0.18 ineffective ones. This was good enough to convince me that I didn't have to carry my film camera everywhere but not good enough to make me want to get rid of it. Digital was clearly the only way to feed a website but film was still the way to go for good sharp prints.
I believe it was about this time that a friend asked me to recommend a good digital camera and I answered that I couldn't. There were some very good digital cameras being made but they cost thousands not hundreds of dollars. Nikon's first digital SLR, the D1, came out in 1999. The 2.6 mega-pixel wonder retailed for $5580 — body only. The D1X came on the market in early 2001 at about the same time as the A20. With what is now a familiar characteristic of electronics, resolution, 5.4 megapixels, was up and price, $5350, was down. These were professional quality cameras with prices that could only be justified by professionals needing instant product. For an amatuer convinced he needed instant product to feed a website, even the few hundred dollar price of the little Canon wasn't easy to justify. Of course, if financial justification was a real factor in any of this, there wouldn't even be a website to feed.