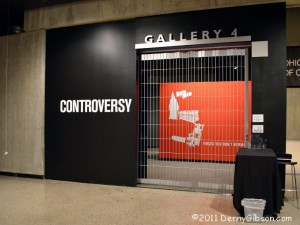 I missed it. I missed an exhibit I really wanted to see. From April through November, the Ohio Historical Center had a display entitled Controversy: Pieces You Don't Normally See. Of the five items it contained, the retired electric chair seemed to be the main attraction with a KKK outfit, a thumb mitt, an adult crib, and a nineteenth century condom rounding out the bill. I'm sure I drove by the building more than once while the exhibit was in place but, as we often do, I assumed there would always be another chance. It wasn't until I visited the Ohio Historical Society's website to sign up for Dickens of a Christmas that I realized that I'd blown it.
Dickens of a Christmas is an annual festival sort of thing that takes place in the recreated nineteenth century village adjacent to the Historical Center. I registered to attend the first night of Dickens of a Christmas and, even though there was no electric chair or condom to be seen, headed to Columbus in time to visit the Historical Center in the afternoon. That's how I got the picture of the entrance to the recently closed Controversy exhibit.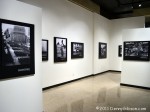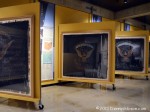 In addition to the many worthwhile permanent exhibits, the Center currently has a captivating temporary exhibit called The American Soldier: A Photographic Tribute From The Civil War To Iraq and several of the 434 Civil War battle flags in the museum's possession are on display. Plus, although it's a poor substitute for an adult crib from an insane asylum, there was, once upon a time, at least a little controversy associated with the two headed calf.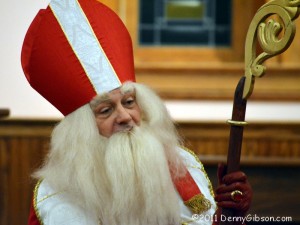 The Ohio Historical Center is certainly a cool place to spend an afternoon but the title of this entry is "Dickens of a Christmas". My evening at Ohio Village is covered in a separate Oddment page here. It is only the second Oddment page added since the start of this blog. While there is no precise definition of what qualifies one subject for an oddment page and another for a blog entry, it seems likely that I've completely covered a subject in a blog entry that might have appeared as an Oddment in pre-blog days and it is all but certain that some of the existing Oddment pages would have instead been blog entries had the blog existed at the time they were created. I believe one of the things that helps decide Oddment or blog is number of pictures. I haven't posted a huge amount of pictures from Dickens of a Christmas but there are more, sixteen, than I feel comfortable with in a blog entry. Look them over at the Dickens of a Christmas Oddment page.
---
I know some who see this will have heard of Kickstarter but I'm guessing not all. It's a method for funding projects with large numbers of small contributions. Learn more about it at the Kickstarter website. Kickstarter depends a lot on word of mouth. Friends tell friends, usually in an indirect Facebook/Twitter/newsletter sort of way, about projects they like and that, in case you haven't guessed, is what I'm doing here. I've contributed to a couple of projects that I liked and blown off a couple more that didn't quite click with me. I recently learned of a documentary project that I like and, since you're reading about it here, there's a chance you will too.
I heard of the project from Dirk Hamilton. It isn't Dirk's project but he is in it. I was inclined to give it a couple of bucks 'cause I like the general subject and, of course, I like Dirk but I was hooked for sure when I read the "Part music documentary and part road trip movie…" line. The documentary is called Folk. Check out its Kickstarter page here.