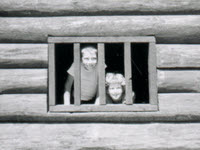 That's my sister and me in the lock-up at Fort Recovery sometime in the mid-1950s. From about age six to age ten or so, the site of the 18th century fort was my favorite "vacation" spot. During those years, a summer was not complete until I'd talked my parents into taking us to this far away and ancient attraction. In time I learned that the log structures were not the originals from 1794. Those were already long gone when a 1938 WPA project produced the one-third sized replica that was there on my first visit. The building we're peering out of was part of the replacement constructed toward the end of my fascination. A worker at the museum thought 1957 or '58. Eventually I even learned that this particular "far away" was something less than fifteen miles north on the very road we lived on. Figuring that out took me awhile since all other travels — school, shopping, relatives, Dad's job — were in some other direction. I still greatly appreciate my parents taking me there even if the effort wasn't quite as extreme as I once thought.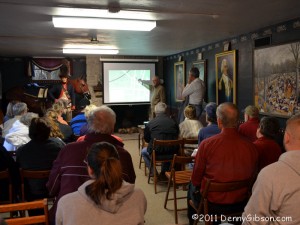 I mention this now because I stopped by the old fort today. I was near my childhood home for other reasons and there were some happenings at the fort centered around a new book titled Wabash 1791: St. Clair's Defeat. Yesterday John Winkler, the book's author, led a walk around the site for educators. Today he gave a pair of talks. I was there well ahead of the first talk at 3:00 but didn't move to the lecture room until it was filled to overflowing. I did get a good seat for the slightly less crowded 4:00 presentation.
St. Clair's Defeat, a.k.a., The Battle of the Wabash, occurred 220 years ago last Friday. On November 4, 1791, St. Clair's 920 men were attacked at the future site of Fort Recovery by a slightly larger force of Miami, Shawnee, and Delaware Indians. The result was pretty much a massacre with 632 soldiers and all or nearly all of the approximately 200 camp followers killed. I've seen conflicting statements that the dead soldiers represented a quarter of the U.S. Army at that date and that the battle reduced the U.S. Army to around 300 men. I'm guessing that the discrepancy comes from varying counts of deserters and the sick. I picked up a copy of Winkler's book so maybe I'll find the accurate numbers there. Regardless of how much Army remained, much clearly didn't. By several different measures, this battle was the worst defeat in United States history.
Just over two years later, troops under "Mad" Anthony Wayne began construction of what they would name Fort Recovery. It was completed in March of 1794 and in June of that year survived attack by what has been called the largest force of American Indians ever gathered east of the Mississippi. That was followed by Wayne's victory at Fallen Timbers which was followed by the Treaty of Greenville which was followed by the state of Ohio.
When I did an Oddment page for the 2010 Fair at New Boston which included a reenactment of the Battle of Fallen Timbers, I discovered that a song existed about St Clair's Defeat. A recording by Roger McQuinn, complete with lyrics, can be heard or downloaded here.
Anthony Wayne was my childhood hero. I imagine part of the reason was the "Mad" in his name but I was really impressed with that cocked hat. When I saw my first picture of a bare-headed "Mad" Anthony, the general came near to losing me as a fan. But I overcame the shock and stuck by my hero and still enjoy knowing that he and I ran up and down the same roads separated by just a couple of centuries.
Of course, sis and I did eventually get out of the frontier hoosegow but it happened again.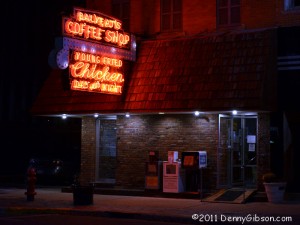 I was alerted to the Fort Recovery doings by a Ohio Historical Society newsletter. Just a couple of days prior, the Lincoln Highway Facebook group had a link to this article on Balyeat's Coffee Shop in Van Wert, Ohio. I've eaten at Balyeat's multiple times but have never had the "Young Fried Chicken" advertised on their wonderful neon sign. The Facebook post reminded me of that and, since Van Wert and Fort Recovery are only about thirty crow miles (or forty Subaru miles) apart, I decided to correct that gap in my experience. Today the chicken is baked rather than fried but I'm sure it's still young.
---
I have now removed the forum that was added in 2010. I said I would do that in the very first entry of this blog but I saw no need to rush. Until this week, it has sat there idle exactly as it had for the seven preceding months. Every now and then some spammer would attempt to set up an account but they were few and far between. But this week there has been a mini-flurry (6) from folks with names like "Okkgeiwk" and "horrhyday" which prompted me to finally delete the thing.