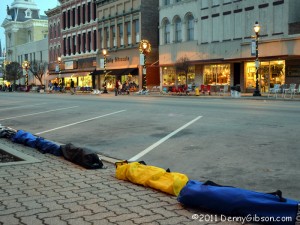 The practice of using lawn chairs to stake out prime territory at various events has long both amused and irritated me. It flourishes in smaller communities where honesty abounds and scoundrels tempted to displace or abscond with the portable furniture are simply not tolerated. I'd guess that any chair plopped down ten hours ahead of a concert in NYC's Central Park would be long gone before showtime but I don't really know that. Last night, Greenville, Ohio, held its eighth Hometown Holiday Horse Parade. The picture at right was taken about 5:30 but some of those chairs were there when I drove through town around 10:00 AM.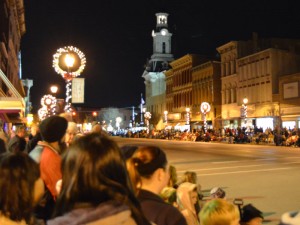 This is a big event and the crowd grows to four or more deep in a matter of minutes. This picture shows the scene about five minutes before parade start — about an hour and a half after the first one. It's not logical that this somehow irritates me slightly. The way I operate, I'm going to be behind those four or five rows regardless of when or by whom they were filled. I am not personally affected by the fact that the front row is filled by people whose cousin dropped off a dozen chairs on his way to the turkey shoot but it doesn't seem quite right. You have to stand for hours on Times Square or Gobbler's Knob if you want to see the crystal ball or Punxsutawney Phil and that, in my view, is as it should be.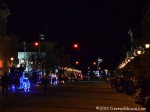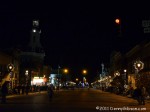 I believe this is the third or possibly fourth time I've attended the parade. I've taken pictures each time but I still don't know how to do it. I have virtually no usable pictures of individual participants. This pair of photos looks north on Broadway shortly before the parade's start and end. Staging for the parade is just to the right of these pictures and the horses enter Broadway more or less in front of where I'm standing and continue north. After rounding the traffic circle at Main Street, they retrace their path back along Broadway so those folks in chairs get to see them coming and going. The right hand picture shows the last few entries nearing the end of the route on their return.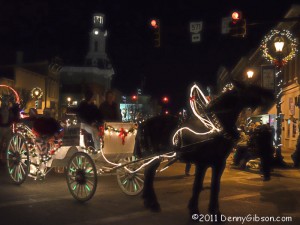 This year's parade reportedly had well over sixty entries. Some of those entries were groups of riders on horseback but it hasn't always been so. For at least one year, horseback riders were banned because, as I understand it, some of the organizers felt that the parade was conceived around lighted wagons and carriages and it should stay that way. I have no opinion and just try to enjoy the lights and the horses whether they're hitched to a wagon or not.
The last picture is obviously out of sequence and I'm including it mostly because I just like it. There had been some light rain in the afternoon and some predictions showed the chances increasing toward evening. That was definitely not what happened and the picture shows the clouds separating a bit as the sun goes down. This is the circle that marks the northern reach of the parade and, like the street itself, it is surrounded by thick walls of spectators as the horses pass by. Here's another picture from last night that has even less to do with the parade but which I may like even more.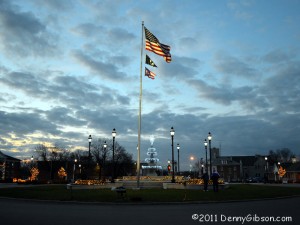 ---
I would like to dedicate my mild rant against "chair claims" to America's most congenial curmudgeon, Andy Rooney, who died two weeks ago. I don't know that Andy cared one way or the other about modern concert and parade "sooners" but I do know that, if he did, he would have expressed his feelings a whole lot better than I did.
---
This morning I headed slightly north to Mason, Ohio, for breakfast. The Mason Grill is a great family owned business that always satisfies in terms of food, friendliness, service, and value. I walked in thinking mushroom omelet but changed my mind as soon as I read the chalkboard specials. Goetta omelet? I'd never seen goetta on their menu before and the waitress confirmed that it was a new but permanent addition. This might be goetta's northern most outpost to date. After last week's goetta-scrapple-mush discussion, there was no chance of me not ordering it. Unfortunately, goetta does not photograph well while buried in an omelet but here's my great tasting breakfast anyway.