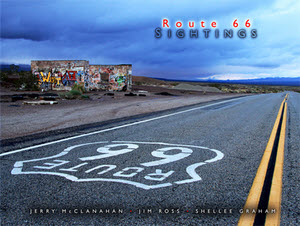 I expected to be impressed by the images in Route 66 Sightings. They come from three of the best photographers ever to point a camera at Route 66. I didn't expect to be educated though I now realize that I should have. Those three photographers, Shellee Graham, Jim Ross, and Jerry McClanahan, are also three of the most competent of Route 66 historians.
The first book I reviewed on this blog was a photographer-writer collaboration. That's a fairly common arrangement. It's not because the writer can't take a decent photograph or because the photographer is illiterate or knows nothing about the subject.  It's because one person typically produces better images while the other is the better word smith and/or more knowledgeable. The three people behind …Sightings are all quite adept at recording, remembering, and 'riting.
Unlike many books connected with a road, the organization here is not geographic. No east to west or north to south. Instead, the photos are divided into categories. Roadside attractions and businesses that have completely vanished are pictured in a gallery (Yeah, it's a lot like a chapter.) called "Gone". Some that can still be visited, but just barely, appear in the "Used to Be" gallery. "Against the Odds" covers the rare business or attraction that continues being what it's always been and "Rescued" covers those that live on by being something different. Roadside attractions with a recent beginning make up "New Kids on the Block".
"Gone" is the first gallery and I believe it is my favorite. Of course, nothing in the gallery exists today. With very few exceptions, they were gone before I started paying attention to Route 66 in any meaningful way just shy of the turn of the century. So I get a glimpse of things that I'll never see in the real world and that fact, no doubt, has a lot to do with the chapter being my favorite. Some of the subjects were still operating (Shawford Motel, Club cafe) or at least intact (Coral Court Motel) when photographed. Others (Conway Motor Court, Querino Canyon Trading Post) would be candidates for the "Used to Be" gallery if time hadn't since obliterated them completely. I have to single out McClanahan's picture of the Querino Canyon Trading Post, with the buckled building frozen in mid collapse, as a personal favorite.
By being first, the "Gone" gallery introduces the format for the book's layout. It isn't particularly rigid so maybe style is a better word than format. With but a few exceptions(3, I think) each spread (both verso and recto pages, and yes, I did have to look that up) is a set. There is one large photograph and two or three smaller ones. All are of varying sizes. They may or may not all be by the same photographer and may be of the same subject or merely related subjects. The accompanying text is written by the person who produced the set's large image. It looks good and works well.
And the "Gone" gallery does one more thing. It bolsters the credentials of the authors. I'll confess to not knowing exactly how long each of these writer-photographers has been cruising Route 66. I believe McClanahan has been doing it most of his life and I suspect that's true, or close to it, for Graham and Ross, as well. Regardless of what the year counts are, the pictures in "Gone" show that these three were looking seriously at the road and the world around it long before most of us even got off of the expressway. The accompanying text is a combination of personal memories, learned history, and an occasional thimble full of roadside philosophy. You step out of the gallery feeling that, if they know that much about stuff you've never even heard of, they're certainly qualified to write about anything the other galleries might hold.
"Used to Be" is filled with thought-provoking pictures of abandoned and deteriorating buildings. Two photos in particular grabbed my attention. Both are by Jim Ross as are the majority of photos in this section. The first is of the Painted Desert Trading Post. I've never been there but I've seen plenty of pictures. Most are close-ups that show the building and its hand painted signs. Ross has captured the view from some distance so that the actual trading post, on a fading gravel road surrounded by lots of nothing, takes up a very small portion of the photo. He tells us that this was an "opportunity to more fully portray the desolation of the site". It does indeed.
The other "Used to Be" photo that tugged at my eye is of a place where I have been. I've visited John's Modern cabins a couple of times and I've seen scads of photos. Ross sets his photo apart from most by filling the frame with the green of the shingles and the red and yellow of the faded sign backed by green leaves. The condition and, yes, the desolation, of John's Modern Cabins may be more accurately shown in Jim's wider and grayer and more typical shot on the opposite page but I like the green.
Because they are currently active, the subjects of "Against the Odds", "Rescued", and "New Kids on the Block" are likely more familiar to fans of the road than even those of "Used to Be". Not only do they show up in trip reports and vacation albums, many are actively promoted and advertised. Of course, the trio behind Route 66 Sightings does not do normal even here. Shellee Graham puts owner Fran Houser's autograph covered truck in the foreground of a Midpoint Cafe photo, Jerry McClanahan captures a restored 1956 Greyhound in front of the Munger Moss in 2010, Jim Ross shows us the Hackberry General Store with snow on the ground, and there are plenty more.
There is, in fact, a whole gallery I've not even spoken of. It shares its name with the book itself and is called simply "Sightings". It's potpourri; Really good potpourri. It contains photos that the authors liked well enough to include despite them not fitting in any of the planned galleries. How's that for an endorsement?
The quality of the contents is pretty much matched by the quality of the book itself. The slick heavy pages reproduce the photos wonderfully. There's little doubt that a picture's colors appear just as the photographer intended even for the book's handful of black and white images. It's a beauty… and smart, too.
Route 66 Sightings, Jerry McClanahan – Jim Ross – Shellee Graham, Ghost Town Press, October 2011, 12.2 x 9.3 inches, 200 pages, ISBN 978-0967748184