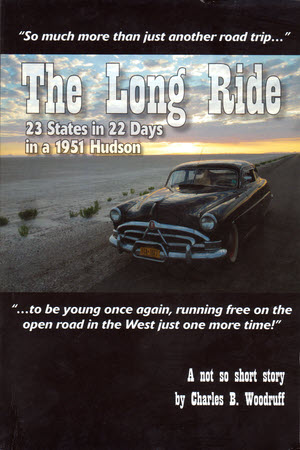 I suppose non-roadies think we're all alike. Normal people go to places and they do it in the most efficient manner possible. To them, folks who mutter stuff like "The journey is the destination" more than once every decade or so, just aren't normal and should probably be avoided. They're right, of course, but there is variety in our abnormalities.
Charles B. Woodruff, author of The Long Ride: 23 states in 22 days in a 1951 Hudson qualifies as a roadie. He enjoys riding more than arriving and two lanes more that four and he knows about the Lincoln Highway and Route 66. He'd probably even enjoy following the Lincoln or Sixty-Six end to end but that's not what floats his boat the highest. Following Route 66 in a rented Mustang wouldn't interest him nearly as much as following some lesser road in a Hudson; Preferably the 1951 Super 6 he's owned for nearly forty years.
The Long Ride recounts Woodruff's drive from Schenectady, New York, to Spokane, Washington, and back again in that Hudson. It wasn't his first road trip in the car or even his first long trip. By the time he pulled out of Schenectady and headed to the 2010 National Hudson Meet in Spokane, he and the car had already visited 43 of the contiguous United States together. By the time he returned, it was all 48.
The book is "Published by the author" so it's not quite as polished as the latest Random House offering but neither is it particularly crude. Woodruff is a librarian in real life so he knows his way around books. I saw a few errors that a high priced copy editor might have squelched but there's no guarantee of that. This is a very readable account of a quite interesting journey.
There are pictures, too, including a few black and white ones of his parents and a younger self. But most are in color and taken during the Long Ride with a digital camera purchased just days before departure to replace a 35mm stolen in November. Somewhere along the way, Woodruff admits that the thief may have actually done him a favor by forcing this bit of modernization on him. In the photos, the car is the star. It isn't in every picture but it is in most. That is as it should be. The Hudson is shown at state lines and in front of houses. There's a nice shot, taken from the board-walk fronting a Montana saloon, of it waiting patiently in an unpaved street. That saloon struck all the right chords with Woodruff and looked rather inviting to me, too. The cover shows the old car parked beside the Bonneville salt flats with a glorious day climbing over the horizon behind it.
Woodruff talks about the country he passes through and the gathering of Hudsons that is the reason, or more accurately the excuse, for the trip. He describes the friends that share portions of the Long Ride and places with family connections where he stops along the way. He talks a lot about the car and its history. What he doesn't talk about is car trouble. I hope I'm not ruining too much suspense when I reveal that, except for a few instances of vapor lock, the fifty-nine year old performs admirably. Oil and brake fluid had to be replenished now and then and, more than once, Woodruff shares his concerns about the temperature gauge climbing when traffic or construction slowed forward progress and reduced airflow.
The trip is, in fact, so trouble free that I've almost forgotten just how big an undertaking it was until the epilogue reminds me. Woodruff had very few preparations planned for the car before taking off and real life circumstances prevented him from accomplishing even all of those. As I began the book and saw the old Hudson pulled almost directly from storage and pointed westward, I felt that a few hours stranded by the road were probably inevitable and a drive ending malfunction only slightly less likely. By the time the car and its driver cross back into New York, those concerns were pretty far in the background. They are recalled , however, when Woodruff talks of doing it "…on my terms or not at all." Of not doing it "…in a modern car or even a Hudson that was in tiptop condition…" or "…in a caravan…". Woodruff is writing about himself and his plans for the drive when, early in the book, he says "Crazy? Maybe."
So what?
The Long Ride: 23 States in 22 Days in a 1951 Hudson, Charles B. Woodruff, Published by author, 2011, 9 x 6 inches, paperback, 191 pages.
Available from author:
Charles B. Woodruff
DoDDS-K, Unit 15549
Box 141
APO AP 96205
cbwoodruff@hotmail.com
Price $19